Small Cells, Big World – Reflections from Small Cells World Summit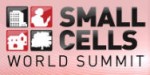 So yes, the title of my presentation at the Small Cells World Summit this week was "Small Cells Big World" and yes, that title was written by me amidst a short vacation to the Napa Valley in April. Guess I shouldn't come up with titles when slightly wine soaked, or should I, you tell me… Anyway, all kidding aside, it was a great week in London for the event and I'm not just talking about the beautiful weather. Thanks for stepping up London.
Once I choked down the bitter bite of constantly reiterated small cell challenges (e.g. backhaul, site acquisition, logistics, blah, blah, blah) seasoned with the frustrated small cell ecosystem now impatiently waiting for meaningful volume, I was able to find my way to a much sweeter set of observations and opportunities. The key being that despite the challenges and grumbling deployments are getting underway for LTE – way faster than they did in 3G – and real trial activity continues to increase across the globe. LTE is truly poised for reasonable and meaningful growth as we enter the second half of 2014 and into the first half of 2015.
Beyond that little tidbit… a few other key trends I picked up during my time at the event:
1. SON, SON and more SON – in short, a lot of focus on SON. It is clear this is an area operators are looking for a solution that fits their specific requirements. Additionally, operators are drawing a line in the sand with the ecosystem – multi-vendor deployments are a must. They will not be held captive in the small cell market by purely proprietary methodologies. 3GPP started to tackle this issue with SON related standards for interfaces and messaging. Small Cell World Forum is taking it further defining a SON API and best practices. At Radisys the name of the game is optionality. We provide distributed SON, partner with the ecosystem (e.g. did you see our Airhop eSON integration announcement?), and collaborate with our customers to meet service provider specific needs. Is SON a challenge – yes – is that challenge being met in trials and deployments today – YES. (Take a look at our new ebook on SON – lots of good information in this short piece).
2. Enterprise the Fertile Frontier…Sort Of – well at least seems that a number of the small cell equipment manufacturers, especially those who have been in the game since the early days, see the Enterprise as their new battleground. Airvana announced "Onecell" a cloud RAN approach to deliver Enterprise in-building LTE, Cisco a new ecosystem approach to pre-certifying products for the enterprise so as to distribute more like enterprise Wifi is distributed today versus through the service provider channel, and ip.access lauded the value of presence in the enterprise as a service enabler. Frankly, while I find the enterprise an interesting opportunity as it is an area service providers can charge a premium to a customer who sees the value I think it will take longer than urban deployments. The Enterprise space is highly fragmented with an unclear channel to sales and I do not see that changing quickly.
3. Small Cells Beyond Service Providers – there is a growing number of players participating in the event as well as in Small Cell Forum who hail from outside of the traditional cellular ecosystem. They deliver solutions to a number of adjacent markets including aerospace, military, public safety, lawful intercept, rural, and so on. Radisys has been participating in this market for a number of years albeit somewhat quietly and it's great to see these players coming more into the focus. A great leading indicator of the reality of opportunities outside of the service provider market and the incremental value that can be derived. The next release from Small Cell Forum even specifically addresses the unique considerations of these markets. In the end, it feels good to supply technology that can play a role in saving lives in a big way – OoRah
Well, I generally try to keep blogs short so just hit my top three and still made this way too long. Guess that's what a long flight home will do – too much time to pontificate. For my parting shot – Avren please please please move this event back to city centre or at least reasonably close. Appreciate the thinking behind the Expo center, but a lot of the participants longed for the easy access to decent food, entertainment and the camaraderie of everyone staying in the same hotel (i.e. consuming various libations till the wee hours of the morning).