Six Services: Get to Market Faster with Radisys' Professional Services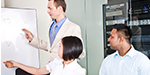 Across the telecom industry no two communications service provider (CSP) networks are alike – each is trying to find new innovative way to reduce OPEX and increase ARPU. The move to virtualization and SDN is facilitating this objective and is driving a need for enabling services that are integrated into the CSP business infrastructure. CSPs are migrating into a SDN/NFV cloud network and require a level of integration to enable service delivery and simplified OPEX. Radisys is uniquely positioned to enable this migration with our standard off-the-shelf products such as CellEngine, FlowEngine and others, coupled with our strong Professional Services organization that are experts in all aspects of network deployment, custom services integration and network management.
Here is how our Professional Services team gets our customers to market even faster:
1.    Consulting Services
Our products are designed from the ground up to solve CSP migration into a virtual cloud infrastructure. We enable this migration using our own products or third-party components that best meet CSP business needs. Coupled with our Consulting Services, staffed by our technology and industry experts, we are able to take those products and create solutions fully meeting our customers' business needs.
2.    Systems Design and Development
All of our products are designed for flexible integration into CSPs' unique business model and call flows. Our Professional Services team has years of experience configuring Radisys' products, or adding high-quality customizations to customer-specific products or network deployment requirements. This includes development for legacy features, allowing for faster decommissioning of older systems or acceleration of unique features that enable increased ARPU and customer retention.
3.    Manufacturing Logistics
Our supply chain and manufacturing processes for our embedded platform offerings are designed to reduce our customers' operations investments. We are skilled at managing both our own operations, plus those of third-party suppliers. Radisys becomes the single neck to choke for supply and support.
4.    Service and Support
Radisys' 7×24 services team becomes an extension of your own services team with the same accountability for response time, resolution time and service restoration. We have significant experience supporting multiple levels of advance replacement, extended warranty and repair for all products we deliver. Our team prides itself in driving the highest service uptime metrics with the lowest OPEX cost.
5.    Installation and Commissioning
Need to roll out a network deployment in 20 cities around the globe? No problem. Our Professional Services provides expert installation of our products, integration into adjacent networking, control, and monitoring equipment, and commissioning of the systems through go-live to production traffic.
6.    Training
We offer extensive training modules for all our product lines and can work with CSP staff to drive further cost reductions to deliver more operational efficiencies.
Our customers depend on our products for the success of their systems or network deployments, but by bringing in our Professional Services experts, they can further minimize risk and accelerate time to market. Contact us today to learn how we can help you.