Radisys is one of the most active leaders in driving open telco software solutions, working with complementary technologies to create full solutions for service providers as they transform their networks and prepare for 5G and LTE growth.
Many of our partners work across our product and solution portfolio, and all our partners go-to-market with us to drive profitable revenue with an alignment of purpose and interoperable, scalable software solutions addressing new levels of security, performance, economics and scale.

Radisys Open Business Accelerator program is focused on delivering mutual benefits to Radisys and our partners alike. Radisys will work with open ecosystem, established, early stage and in-development partners worldwide to develop joint sales and marketing campaigns, deliver extensive training workshops, and share product roadmaps.
4G & 5G Network Evolution
More and more telecom service providers are preparing their 4G networks to upgrade to 5G networks deployment. With more than 600 Long Term Evolution (LTE) networks in live operation, 4G is the most widely deployed broadband access technology globally. In technology-advanced markets, operators are preparing to deploy new 5G Radio Access Networks (RANs) that will be tightly coupled with advanced 4G access using licensed and unlicensed/ shared spectrum technologies (such as LAA, CBRS) to offer the coverage and capacity needed to support a wide spectrum of use cases. Radisys 4G & 5G Network Evolution solution targets partnerships focused on RAN decomposition and evolution to 5G – based on initiatives such as TIP, xRAN, ORAN, multi-access edge computing and broadband access evolution.
For this purpose, the "Open Radisys" initiative is at the forefront of enabling service providers and equipment manufacturers to drive disruption with open architecture models. The Radisys MobilityEngine software platform and services solution offers a comprehensive 4G and 5G network evolution solution using Open RAN and unbundled software concepts for 4G and 5G, CBRS, Virtual EPC, Mobile Edge Computing (MEC) and IoT. The new open RAN model allows operators, system vendors and integrators to create optimized, multi-vendor programmable RANs for multiple use case scenarios and deployment models – from private enterprise networks, to ultra-dense urban capacity, to wide-area Internet of Things (IoT). The end to end customized integration services enables service providers and system integrators to differentiate their mobile services with improved time-to-market and lower cost.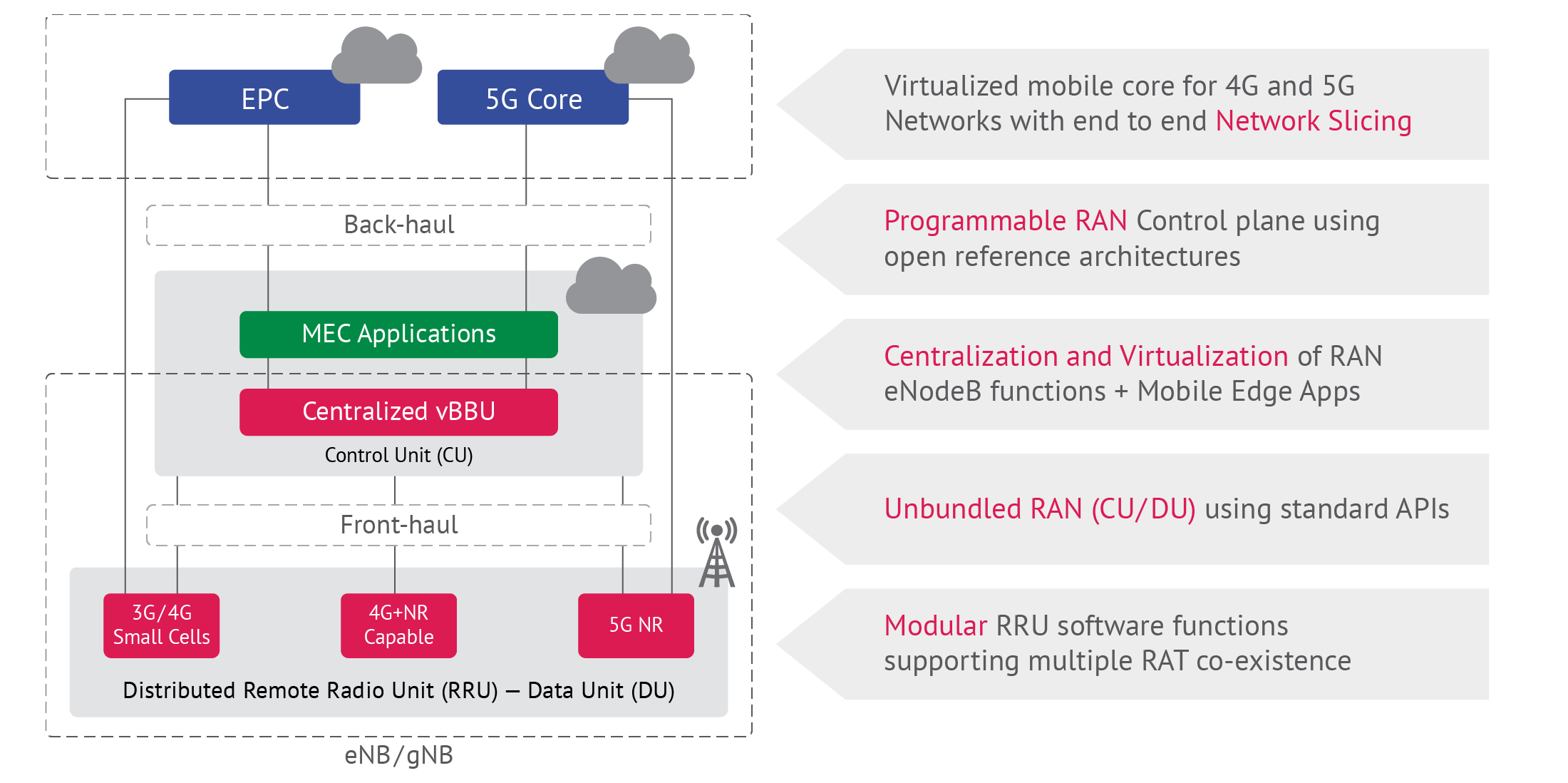 Radisys Open-RAN architecture has the following features:
Software Defined: Open white box hardware and software (NFV, SDN) efficiencies;
Unbundled: Disaggregated control/data Open APIs;
Programmable: Are programmable based on real world network conditions;
Flexible: Allow operators to achieve deployment manageability by decoupling the RF and baseband sub-systems that comprise a radio base station.
MobilityEngine is the only solution that integrates with wide variety of radio chipsets including industry first x86 based Intel FlexRAN – enabling service providers to accelerate their cloud migration strategy for 4G and 5G deployments.
Also, Radisys is one of the industry front-runners in offering a Mobile Edge Computing (MEC) component as part of this overall solution. Radisys is developing a complete open MEC platform based on open CORD (including converged mobile and fixed wireline access). The MEC platform is architected based on open hardware and open source software frameworks and stacks (including OpenStack and Containers), with compliance to ETSI MEC defined modules and APIs. The platform facilitates MEC vApps to be on-boarded and launched on available compute resources within CORD edge deployments. The Radisys MEC offer includes Virtualized RAN and Broadband Access, eNodeB local breakout and Intel's Network Edge Virtualization SDK. It also supports virtualized applications like vMRF (virtualized Media Resource Function) as well as any third-party MEC compliant virtual applications.
Radisys with its heritage in market leading RAN software stack solutions and leadership in open architectures and ecosystems, is well poised to address the complex challenges that mobile service providers face. The Radisys solution enables operators to significantly reduce their CapEx and OpEx as they evolve their 4G and 5G networks.
IP Media Intelligence
Driven by the insatiable demand for innovative contextual real-time voice and video communications services and immersive experiences with augmented reality and user generated content, service providers are accelerating their deployments of VoLTE/ ViLTE, UC, and WebRTC based interactive services. Service providers are investing in next generation media optimization applications leveraging deep media analytics and edge computing capabilities. Legacy networks are increasingly transformed to an all IP communications network and service providers are embracing cloud virtualization, open compute platforms, and edge computing architectures. The Radisys IP Media Intelligence solution supports partnerships that enable real-time video and voice communications services and immersive experiences with joint solutions that leverage the flexibility of media servers to deliver service agility, service innovation and CapEx and OpEx reduction.
The Radisys MediaEngine is a media processing powerhouse for a wide range of revenue-generating real-time HD audio-video services such as VoLTE, Unified Communications, WebRTC, Video Conferencing, Transcoding as well as advanced media optimization and analytics services such as speech recognition, and user generated interactive content. Rated as #1 vendor by IHS (formerly Infonetics Research) for more than 10 years in a row, MediaEngine virtual Media Server software is highly optimized to deliver exceptional performance in virtualized and cloud environments.

Radisys' MediaEngine Media Server software provides service providers the ultimate flexibility in their choice of common, industry-standard server platform. It is available in 'bare metal' form or as a virtual appliance, running on leading enterprise Linux distributions, virtualization platforms, and elastic cloud orchestrated environments designed for telco NFV private data centers as well as public clouds.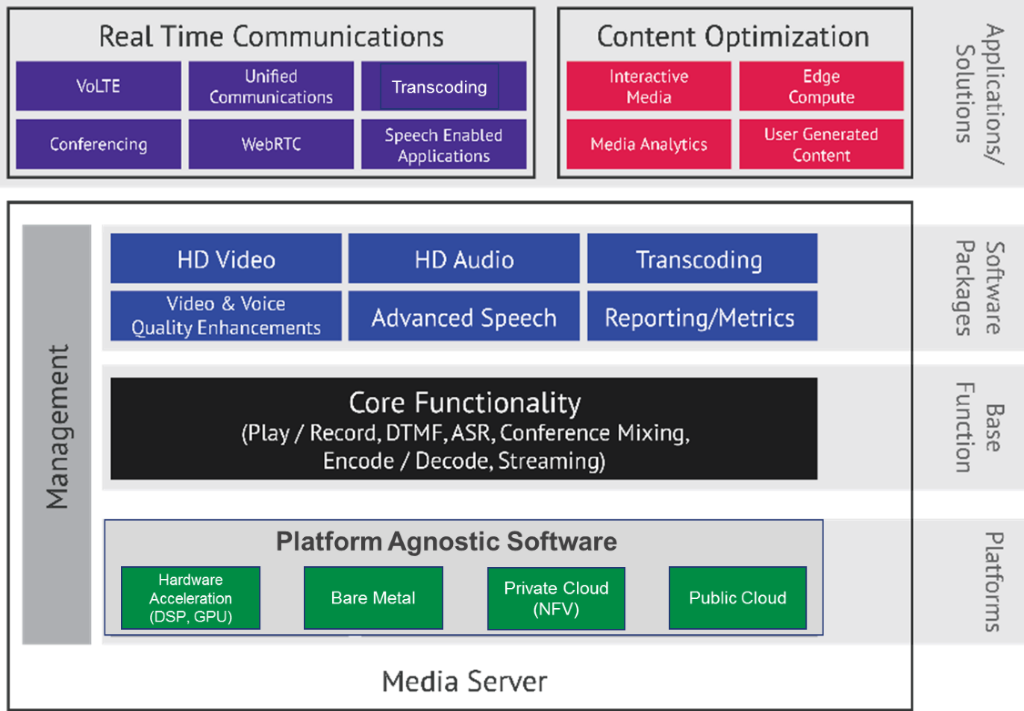 Radisys MediaEngine software media server platform offers several benefits to service providers, equipment manufacturers, and system integrators:
Drives revenue, improve service stickiness, and gets the best price-performance in delivering real time communication and media optimization services
Feature-rich media server capabilities with APIs to drive service innovation
Gain best deployment economies with a choice of high-density, carrier-grade hardware, software or cloud deployment options
6 to 10 times smaller media server footprint for hyper-scale cloud deployments
Drives cost out of services delivery platform by consolidating all media processing onto a shared service agnostic platform
Seamlessly interconnects with any network using broad range of audio and video codecs and transcoding
Architecture flexibility as an integrated Media Server or as a decomposed Media Resource Function with MediaEngine-Controller and MediaEngine-Processor components
SDN & NFV Cloud Networking
The world of digital services continues to advance exponentially. To embrace this level of digital transformation, Communication Service Providers (CSPs) already know they need to migrate their network functions to the cloud. Global trends indicate these service providers are increasingly maturing their Software-Defined Networking (SDN) and Network Functions Virtualization (NFV) strategies to accelerate the deployment of cloud-based digital services. SNS Research estimates that service provider SDN and NFV investments will grow at a CAGR of 46% between 2016 and 2020. As service providers seek to reduce costs and virtualize their networks, these investments will eventually account for over $18 Billion in revenue by the end of 2020. In this scenario, Radisys delivers joint solutions with partners that will enable service providers to address the growing performance and scalability challenges faced by applications such as network visibility and analytics, monitoring and 5G control network overall, with reduced costs. Further, Radisys is providing turn-key services to modernize central offices with cloud date center technologies that utilize CORD open reference architectures.
Service providers today are finding that massive growth in data traffic and bandwidth size, as well as the increasing demand for a greater portion of network traffic to be intercepted, are causing the failure of traditional monitoring devices' scalability. Mobile operators can now use the super-efficiency of the industry leading TDE-2000 FlowEngine platform – a vital part of the SDN and NFV Cloud Networking solution, to cope with the fast growing data traffic – utilizing it as a load balancer, as a network packet broker or as an inline network TAP for selective traffic offload.
Though mobile operators are doing everything to enable subscriber additions, reduce churn and seamlessly improve their network capacity, traffic analytics and monitoring capabilities, their network equipment is unable to cope with the rapidly growing data traffic. For instance, today's monitoring tools have lower capacity (10GB-30GB) and operators find it increasingly cost prohibitive to go to higher capacities. The powerful Radisys FlowEngine addresses these problems successfully by being a fully programmable media platform that simultaneously supports:
L4 Session Based Stateful Load Balancing
Network Packet Broker or Network TAP
Supports L3/L4 and GTP Traffic aware deployment models
Provides up to 600 Gbps of L3/L4 data throughput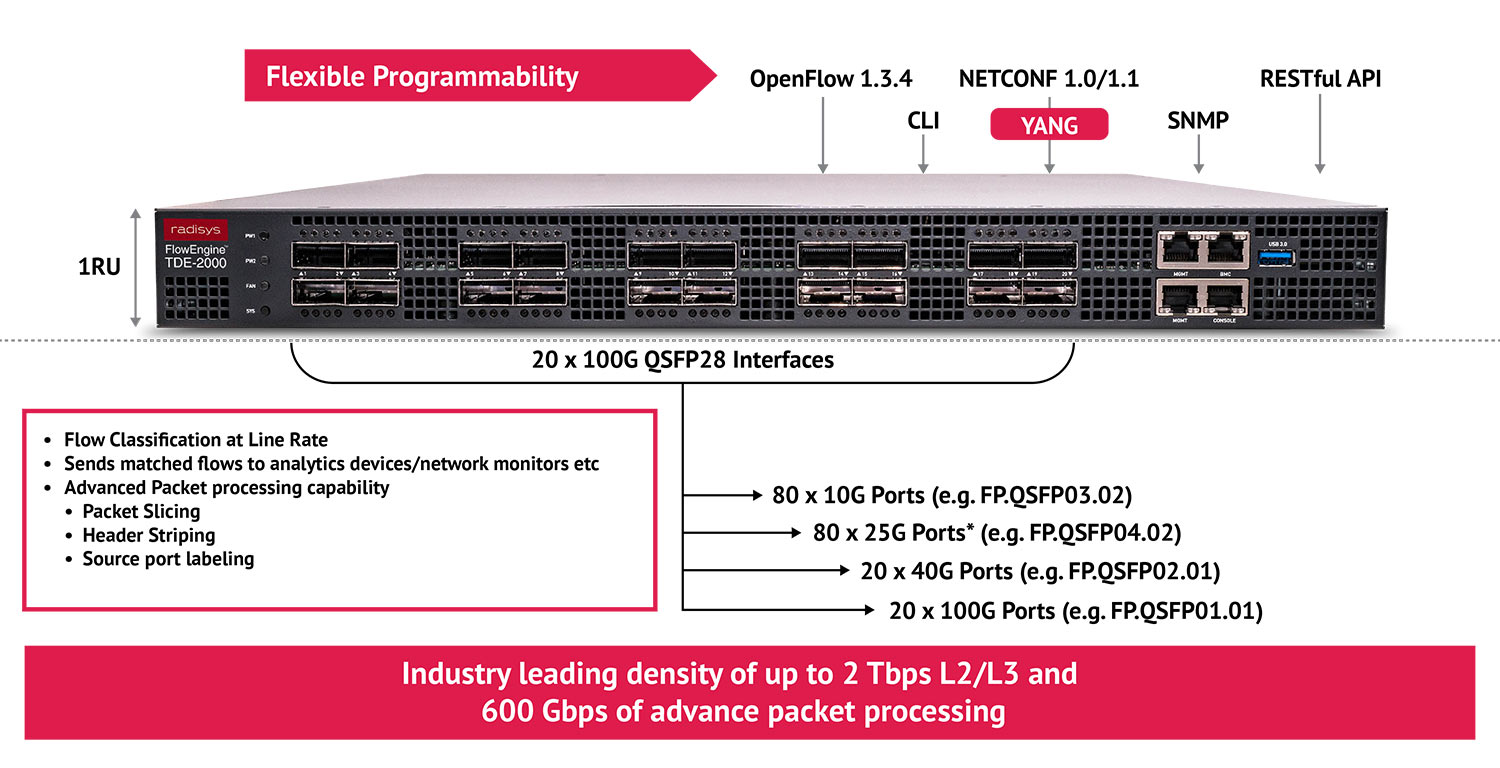 Radisys empowers service providers to accelerate their cloud evolution. There are multiple architectures and industry standards that aim to define a blue print of technologies that enable service providers to leverage open source and open compute platforms for broadband access. Though new functional paradigms such as SDN, NFV, Cloud computing, and reference architectures CORD are becoming the building blocks to modernizing the next generation cloud datacenters - they also introduce many new challenges for service providers.
Radisys provides turn-key services to modernize central offices and core networks with Cloud Data Center technologies using open reference architecture such as CORD (R-CORD and M-CORD) and accelerate path to commercialization. As one of the industry's first certified CORD development and integrator partner, Radisys is an industry leader in implementing reference applications such as VOLTHA/ Residential CORD (R-CORD) and Mobile CORD (M-CORD). Radisys also offers extensive telecom integration capabilities and support for creating end-to-end customized blueprints and solutions for service providers. Radisys Professional Services works as a systems integration partner to ensure that a comprehensive service delivery solution is staged and optimized for the target applications and service provider requirements. This ensures that the desired system is delivered as ready-to-deploy units in the datacenter, minimizing installation and turn-up effort.
In a nutshell, Radisys SDN and NFV Cloud Networking solution is a high performance, low footprint solution with great ease of deployment and manageability.
For more information about our Open Business Accelerator