Trillium Monitoring software solutions are the market's most comprehensive passive monitoring protocol suite.
Field-proven passive monitoring software solutions
Comprehensive support of 3G & LTE wireless protocols
Trillium passive monitoring software protocol layers and stacks build upon the deployment- and interoperability-proven foundation of Trillium active protocol software. These monitoring solutions leverage the core enabling technology of the Trillium 3G and LTE wireless, SS7 / SIGTRAN, and ATM protocols that have been proven in telecom networks throughout the world.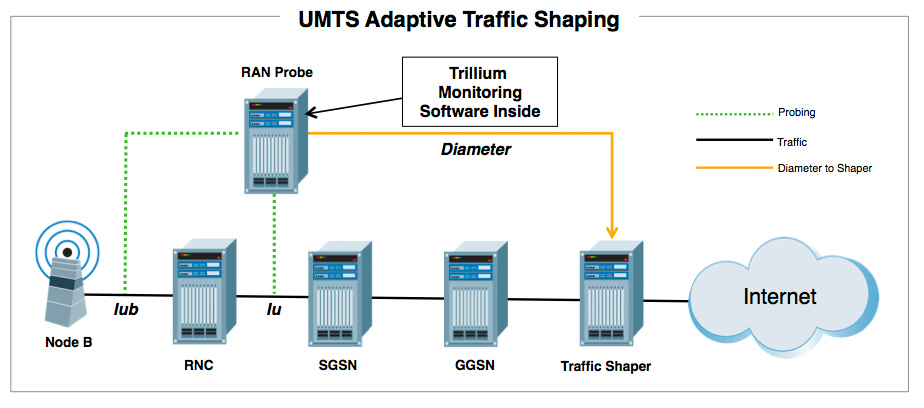 Trillium monitoring software solutions enable operators to inspect key signaling messages, empowering applications to derive critical information regarding over-the-top applications, congestion, and usage patterns of individual users in real-time. Such visibility into network and subscriber usage patterns enables unique and innovative solutions targeted at network utilization optimization, assured quality of experience, and fraud prevention.

Trillium passive protocol layers are created by extracting the Trillium encode / decode module from the active Trillium protocol and combining it with the Trillium monitoring specific function (MSF). Many of the Trillium active protocol layers have already been converted to passive protocol layers and are available to be customized and integrated into your monitoring product by the Trillium Professional Services team.
Some of the Trillium monitoring software layers have been integrated into 3G and LTE monitoring stacks and provide a commercial-off-the-shelf (COTS) solution to get your product to market quickly. These COTS stacks are kept current with evolving standards, providing you with a compliant solution well into the future.
Additional Specifications
ACCELERATED TIME TO MARKET
Extensive portfolio of passive monitoring protocols allows you to respond rapidly to operator requirements
COTS stack implementations provide the fastest time to market
REDUCED DEVELOPMENT & SUPPORT COSTS
Comprehensive technical support for product integration with onsite or offsite consultation available
Monitoring stacks are kept current with evolving standards
REDUCED PROJECT RISK & COMPLEXITY
Leveraged from the deployment, interoperability and performance proven Trillium protocol suite
Expert Trillium Professional Services and global technical support with customizable training program and optional onsite integration services
Extensive suite of 3G and LTE wireless, SS7 / SIGTRAN and ATM passive monitoring protocol stack implementations, including:

3G: MAP, IS-41, CAP, RANAP, BICC, GTP-c, GTP', GMM/SM, RRC, RLC, NBAP, FP
LTE: S1AP, NAS (eMM / eSM), eGTP-c
SS7 / SIGTRAN: INAP, ISUP, TCAP, SCCP, M3UA
ATM: AAL2 Signaling (ALCAP), Q.SAAL, Q.2140

Core enabling technology for the monitoring software is taken from the deployment, interoperability, and performance proven Trillium protocol software product line.
Reduce the risk and cost of interoperability testing and network rollout of the solution with field proven Trillium protocol software.
Optimized performance meeting or exceeding modern network requirements.
Platform-independent software with integrated support for all major operating systems and processors.
Extensive portfolio of passive monitoring protocols allows you to respond rapidly to operator requirements