Reduce time-to-market with a turnkey 3G/HSPA+ small cell solution
Our Femtotality 3G small cell software solution helps traditional network equipment providers and device manufacturers to deliver their own 3G access points with minimal upfront investment and rapid time-to-market. Femtotality is a deployment-ready solution built on the foundation of market-leading Trillium 3G/HSPA+ small cell protocol software and reference applications, including RRM, SON, REM, OA&M and Timing plus underlying protocol stacks across a market-leading silicon ecosystem. It also support CSPs transition to LTE.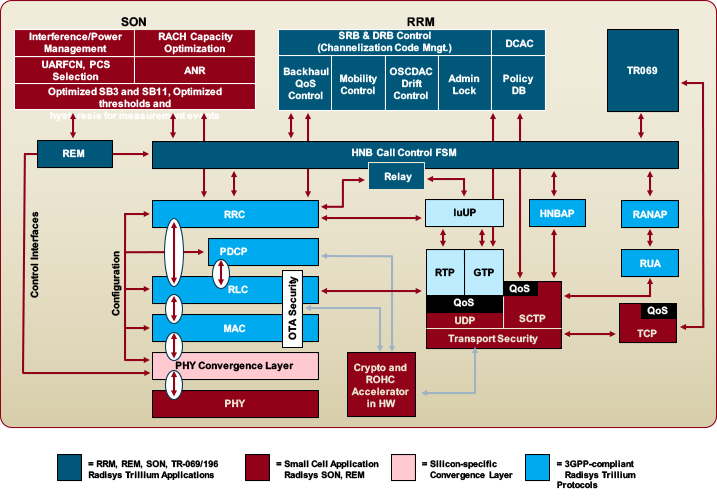 This video explains why working with Radisys for your Small Cell deployments can save development costs and speed your time to market. Radisys provides a complete Small Cell integrated solution and provides industry leading, end-to-end professional services.
Comprehensive radio resource management (RRM)
Self-Organizing Networks (SON) capability
Radio Interference Management and Radio Environment Map (REM)
Complete OA&M solution based on TR-069 and TR-169 standards from the Broadband Forum including zero-touch configuration, firmware management and fault management
Compliance with 3GPP Home NodeB (HNB, 3G) standards
IOT with leading femtocell gateway vendors
Trillium 3G protocol stacks supporting Layer 2 and above signaling and data plane capability
Convergence Layers for specific System-on-Chip (SoC) platforms
Turnkey, deployment-proven femtocell software
Off-the-shelf software built from the ground up for usability and maintainability
Consistent TAPA architecture for rapid application extension and simplified future upgrades
Professional Services and global technical support to take from trials through deployments
Deployment-ready complete femtocell software
Optimized performance meeting or exceeding network requirements
Platform-independent software with integrated support for all major femtocell specific SoCs
Learn more about the Femtotality