HIGH CAPACITY, 6-SLOT CARRIER PLATFORM
Ideal for mid-density node deployments, T40 Pro is a highly optimized performance per watt per space platform for demanding policy enforcement, security and service gateways applications. T40 Pro sports 40G backplane and up to 4 payload slots allowing broad range of Network Processors and Compute resource blade options.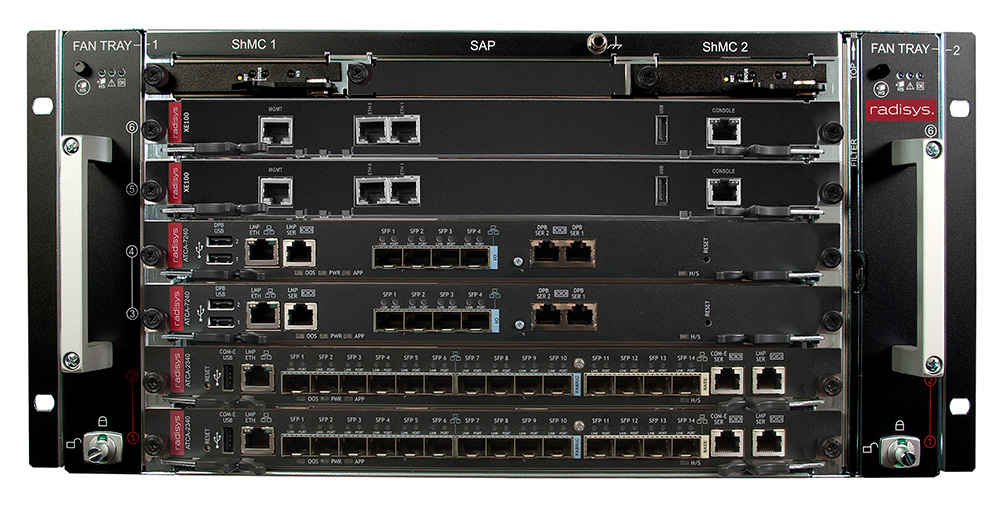 Additional Specifications
6 slot 40G backplane with replicated mesh fabric interface, dual star base interface, and bused or radial IPMB interface
Supports x4 or 5 node slots and x1 or 2 hub slots
Fully managed platform with 40Gb switches, options for quad-core compute modules, storage modules and media and packet processing modules.
Optional Shelf Alarm Panel (SAP) provides Alarm Status LEDs, Telco Alarm Interface
Rear pluggable dual redundant (-48/-60 VDC) hot swappable Power Entry Modules (PEM) supporting 350 watts per slot
Redundant fan trays providing 60 CFM per slot cooling performance
Rigorously verified and tested to ensure interoperability with multiple blade combinations
Ideal for DPI, Policy Enforcement, Security, and Service Gateway applications
Multi-core packet processors, 40G Ethernet switch devices, and high capacity 40GbE uplinks lower cost/bit and increase system density.
Fully verified, integrated, and ready to use, the T40 T-series platform decreases development time.
350 watts per slot and greater than 60 CFM per slot cooling performance.
Integrated platform management software enables streamlined software upgrades, diagnostic capabilities, and platform monitoring.
Common platform improves economies of scale – enabling multiple applications with single platform architecture.
Highly redundant architecture eliminates any single point of failure and enables 5 nines (99.999%) network uptime.
Feature
Function
Description
Physical
Chassis
Radisys SYS6206-40G
Dimensions
Height: 5U Width: 19.14 inches (482.6 mm nominal)
Compliance
PICMG 3.0 and PICMG 3.1
Backplane
Bus
Switched 40 Gigabit Ethernet (fabric) and Switched Ethernet (Base)
Compliance
PICMG 3.0, PICMG 3.1 (option 9)
Node Slots
4
Fabric Slots
2 (slots 1 and 2 )
Switch
Blade
Radisys A2340 (40G Switch and Control Module)
Link Ports
Base Interface Backplane Links * 1GbE for up to 12 node slotsBase Interface I/O Links * 1/10GbE SFP+ available on the front and 1GbE SFP to the rearFabric Interface Backplane Links 40GbE available to 12 node slots * 1GbE, 10GbE available to all node slotsFabric Interface I/O Links * 1GbE and 10GbE available via SFP+ on the front and rear * 40GbE available via QSFP on the rear
Packet Processing Modules
OCTEON II
Radisys A7240 Dual OCTEON II CN68XX Packet Processing Module
XLP (Broadcom)
Radisys APP81 Dual Broadcom XLP 40G DPI packet processing module
OCTEON Plus AMC
Radisys A7200 (A1200 QUAD AMC Carrier with 1 or 2 AMC-7211 QUAD Gigabit OCTEON CN58xx / CN38XX AMC)
Media Processing Modules
TI Multi-core DSP
Radisys A9100-TI, TI multi-core DSP, Media Resource Module
Environment
-
Operating
Non-Operating
SYS6214 shelf
Normal Temperature
'+5C to +45C at 30C/Hr rate of change with a 200W/slot payload
-40C to +70C
Rate of Change:
23C to -40C @ 30C/hr
-40C to 23C @13C/min
+23C to 70C @30C/hr
Transient Temp (Per NEBS GR-63)
-5C to +55C at 30C/Hr rate of change with a 200W/slot payload
+70C to 23C @10C/min
Humidity
5% to 85% @ +30C. Extends to 90% for short term duration not exceeding 0.024kg of water per kg of dry air.
5% to 90% @+40C. 95% Max at less than 96 hour exposure.
Vibration and Shock
0.1g, 5-100-5Hz @ 0.1Oct/min Sine Sweep.
Transport Vibration: 0.5g from 5Hz to 50Hz and 3.0g from 50Hz to 500Hz Per GR-63-Core
Seismic per GR-63-Core requirements, Zone 4.
Handling Shock per GR-63-Core.
Altitude
Full operating temperature from -60m up to 1800m. Derate linearly 1C/300m from 1800m to 4000m.
-
Cooling Capacity
Front Modules
70 + CFM (Airflow at Full Fan Speed) 450W per slot (at 40.5V)
Power
DC Input (Nominal)
-48 VDC/-60 VDC
Software
Operating System
Wind River Linux MontaVista Carrier Grade Linux
Others available upon request
Shelf Management
Compliant to PICMG 3.0 Revision 2.0 AdvancedTCA Base Specification, ECN-002
Hardware Platform Interface (HPI)
HPI is compliant with SAF HPI and SAF Mapping Specifications.
Regulatory
Safety
UL and cUL to UL 60950, CB Report to EN60950
EMC
FCC Part 15 & CISPR 22, Class B
Environment
GR-63-CORE criteria 69-71, 72, 73, 107-109, 110-112, 114, 115, 117, 119, 122, 123, 124, 128
ETSI ETS 300 019-1-1: storage class 1.2 for non-temp-controlled locations
ETSI ETS 300 019-1-2: transp. class 2.3 except for rain requirement
ETSI ETS 300 019-1-3: prA1 earthquake response spectrum, /A1 operating class 3.1 for temp-controlled locations
ETSI ETS 300 753: acoustic noise for env. class 3.1 non-office environments
Compute Module: XE100
DSP Blade: A9100-TI