Type 6, 95x95mm COM, 4th Gen Intel Core i7 Processor, HD, ECC
The CEQM87HD ECC Type 6 Compact COM Express module from Radisys provides extreme ruggedness and -40°C to +85°C temperature range combined with the fourth generation quad-core Intel Core i7 processor (formerly codename Haswell), error-correcting code (ECC) memory, and the Mobile Intel QM87 Express chipset. This 95mm x 95mm module is ideal for compute intensive applications such as medical imaging, communications, as well as test and measurement applications that require high levels of processing performance in a small space.
The COM Express R2.1 compliant Type 6 pin-out enables customers to take advantage of modern interface technology such as DisplayPort, PCI Express Gen2 & Gen3, USB 3.0, and SATA 6G storage. Rich media content can be delivered via up to 3 independent displays. The Intel CPU, built on 22nm 3D transistor technology, provides breakthrough compute and graphics performance to keep up with the demanding workloads of modern embedded systems.
The CEQM87 supports Intel vPro™ Technology, including Intel AMT for remote manageability, VT for virtualization, and TXT for trusted boot, ensuring a solid platform for securely managed systems.
The Radisys CE family of COM Express products enable customers to start designing at the same time as processor release, saving months of development time and resources. OEM focus can remain on core competencies such as software and application development rather than high speed circuit design. Planned feature changes, demand fluctuations and performance upgrades can be handled without product re–designs using the CE family. CE modules can reduce service repair inventories, and simplify upgrades, contributing to the success of the product over its lifetime.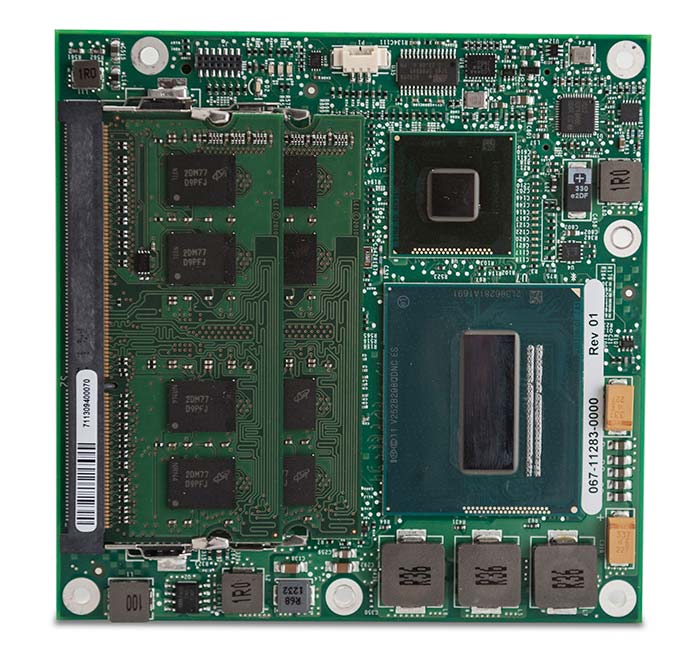 Additional Specifications
| | |
| --- | --- |
| Module Specs | Description |
| CEQM87HDE-4700-0 | Intel Core i7 4700EQ / 2.4GHz / 4 Core / 6MG Cache |
COM EXPERT DESIGN SERVICES
OEMs can depend on the Radisys COM Expert team to support their design at every stage, from schematic checks to the handling of entire custom carrier and system designs. Radisys COM Expert services include options for software utilities, custom BIOS, mechanical models, debug assistance and more to customers using Radisys CE processor modules. Design consulting and debug services are also available to support OEM product development at any stage. Ask your Radisys Sales Manager for more information.
4th generation Intel® Core™ Processor options

Intel Core i7 4700EQ Quad Core, 2.4 GHz

Mobile Intel® QM87 Express chipset
Dual–channel DDR3L, up to 16GB with PC3-12800 MB/s transfer rate
Type 6 COM Express Revision 2.1
Compact 95mm x 95mm size
Seven PCI Express x1 ports (Gen2)
One PCI Express x16 PEG port (Gen3)
Three Digital Display Interfaces (DDI) plus one eDP port
Single Gigabit Ethernet
AMT 9.0 support and option TPM support
Four USB3.0 ports compliant with USB3.0 standard, Eight USB 2.0 ports
Feature
Function
Description
Pin-Out
Type
Type 6, 95mm x 95mm
Compliance
PICMG COM Express R2.1 Basic Form Factor
Processor
Intel CoreTM i7 4700EQ
Core™ i7 2.4 GHz / 4 Core / 6MB cache / 47W / GT2
Chipset
Mobile Intel® QM87 Express chipset
Memory
Type
Two 204-pin right-angle DDR3L SO-DIMM sockets 1600 MT/s, 1333MT/s
Capacity
16GB maximum, up to 8GB per channel
Flash
16MB system flash for BIOS storage
Video
Intel® Gen 7.5 integrated graphics engine
Embedded DisplayPort (eDP) with resolutions up to 3840x2160 pixels at 60Hz
VGA with resolutions up to 1920x1200 pixels at 60Hz
Up to 3 Digital Display Interfaces • DDI 1 (PCH Port B) supports DisplayPort, HDMI or DVI • DDI 2 (PCH Port C) supports DisplayPort or HDMI or DVI • DDI 3 (PCH Port D) supports DisplayPort, HDMI or DVI The resolutions of DisplayPort can support up to 3840x2160 pixels at 60Hz, or 4096x2304 at 24Hz in HDMI mode
External
One x16 PCI Express interface for external PCIe x16 graphics device,
Networking
Single LAN
Intel® 217LM 1000Base-T Ethernet
Audio
High Definition Audio
Speaker Out
Storage
SSD
Greenliant NANDrive 85LS Option, up to 32GB MLC
Storage
SATA
4 SATA ports supporting both 3.0 and 6.0 Gbps operation Supports RAID 0, 1, 5 and 10
PCI Express
PCI Express x1
Seven PCI Express x1 Ports: • Ports 0–3 configurable as one x4, or two x2; or one x2 and two x1; or four x1 ports. • Ports 4-6 can be configured as three x1 or one x2 and one x1 ports
PCI Express x16
One PCI Express x16 Graphics Expansion Port – Configurable as two x8 or one x8 and two x4 ports
USB
Four USB3.0 expansion ports with transfer rate up to 5Gb/s Eight USB 2.0 expansion ports (first four ports combine with USB3.0 ports)
LPC
One LPC interface
TPM
ATMEL AT97SC3204 compliant with TPM1.2
Power
+12 power rail, primary input Supports 9.0V–16.8V power supply
Power Management
ACPI 4.0 supporting states 50, 53, 54, 55 63 and C0, C1, C3, C6, C7 AMT support Intel ME Power States M0, M3, Moff
Miscellaneous
One 100KHz SMBus from PCH
One 400KHz I2C bus from MCU
Eight GPIO (four GPI and four GPO)
Watchdog timer
BIOS
AMI Aptio EFI Firmware
OS
Windows 8
64 bit
Windows 7
64 bit
Windows Server 2 008 R2
64 bit
Red Hat Enterprise Linux
64bit
Physical Specifications
Physical
Dimensions
95mm x 95mm
Compliance
PICMG COM Express R2.1 Basic Form Factor, Type 6
Environment
Cooling
Forced air
Class EAC1 as defined in the ANSI/VITA 47-2005
Conduction
Class ECC1 as defined in the ANSI/VITA 47-2005
Temperature
Operating
Up to 2300 m, -40°C to +85°C Derated -1.1 C per 305 m (1000 ft) above 2300 m (7500 ft)
Non-operating
-40°C to +85°C
Shock
Operating
30G, half sine shock pulse, 11ms duration, 3 times per face
Non-Operating/Unpacked
40G, half sine shock pulse, 11ms duration, 3 times per face (unpackaged)
Transportation/Packaged
Fixtured assembly: 50G, 17.4 ms trapezoidal pulseDrop test, 10-up bulk packaging, 9.14 m free-fall, one drop on each of six faces
Vibration (random)
Operating
Random 5Hz to 2KHz, 7.7 grms, 10min in each of 3 axes 5Hz – 20Hz: 0.004g2/Hz ramping up to 0.04g2/Hz20Hz to 1000Hz: 0.04g2/Hz 1000Hz to 2000Hz: 0.04g2/Hz ramping down to 0.01g2/Hz
Non-Operating/Storage
Random 5Hz to 2KHz, 9.7 grms, 10min in each of 3 axes 5Hz – 20Hz: 0.006g2/Hz ramping up to 0.06g2/Hz20Hz to 1000Hz: 0.06g2/Hz 1000Hz to 2000Hz: 0.06g2/Hz ramping down to 0.02g2/Hz
Humidity
Operating
5% to 95% non-condensing. 95%RH@30C, linear derating to 25%RH@60C
Non-Operating/Storage
5% to 95% non-condensing
Altitude
Operating
To 15,000ft (4570m)
Non-Operating/Storage
To 40,000ft (12000m)
Regulatory
Safety
UL60950-1, EN60950-1, IEC60950-1
RoHS compliant
EMC
EN55024, EN55022, and FCC Part 15, Subpart B, Class B
Order Codes:
CEQM87HDE-4700-0 Type 6 COM E i7 2.4GHz 4700EQ, 4C,6M, 47W, GT2 with ECC, -40C TO +85C
Supporting Products:
CE-DDR3LITE-4G: 4GB DDR3L 1.35v SODIMM Memory with ECC, -40C TO +85C
CE-DDR3LITE-8G: 8GB DDR3L 1.35v SODIMM Memory with ECC, -40C TO +85C
CEQM87-AHS: Active Heat Sink
CEQM87-PHS: Passive Heat
CR300-1: Type 6 COM Express Development Carrier