Dual Broadcom XLP 40G DPI Packet Processing
Targeting the needs of fixed and mobile broadband, the ATCA-PP81 dual Broadcom XLP 40G packet processing blade provides network equipment providers with Deep Packet Inspection (DPI) capabilities to support advanced "content-aware" routing, policy control and security functions required by next generation multi-service IP networks.
Delivering per blade line rates up to 40Gbps, and based on Broadcom's XLP832, ATCA-PP81 packet processing blade enables networks to deliver higher quality of service, increased revenue and optimized network efficiency to improve CapEx and OpEx metrics.
The ATCA-PP81 enables next generation wireless and wireline infrastructure solutions including LTE (Serving Gateway, PDN Gateway and MME), enhanced 3G networks (SGSN, GGSN, Internet Offload) and stand-alone service and policy control devices that scale up to 200Gbps.
The dual Broadcom XLP blade incorporates DPI techniques to extract information on individual traffic flows. With this information operators can deliver service-aware solutions that adapt on a per-service and per-subscriber basis – enabling maximum performance, efficiency and premium service levels.
The ATCA-PP81interconnects two XLP832 packet processors, I/O and backplane fabrics using a non-blocking 40G Ethernet switch. Each CPU is provided with four 10Gbps ports to the switch. External I/O is supported over a dual redundant 40GbE backplane fabric (with fallback to 10G) as well as external connections to 10GbE and 40GbE networks. The fabric can also be configured to support multiple 40G interfaces allowing the blade to function as a combined hub / packet processor blade in systems.
Coupled with Radisys' ATCA systems and Trillium protocol software, ATCA-PP81 provides the fastest path from application development to deployment revenue. From DPI application such as policy enforcement, network monitoring and security, to Wireless Core Networks, ATCA-PP81 is the blade of choice for deploying a wide range of high-performance, scalable telecom applications.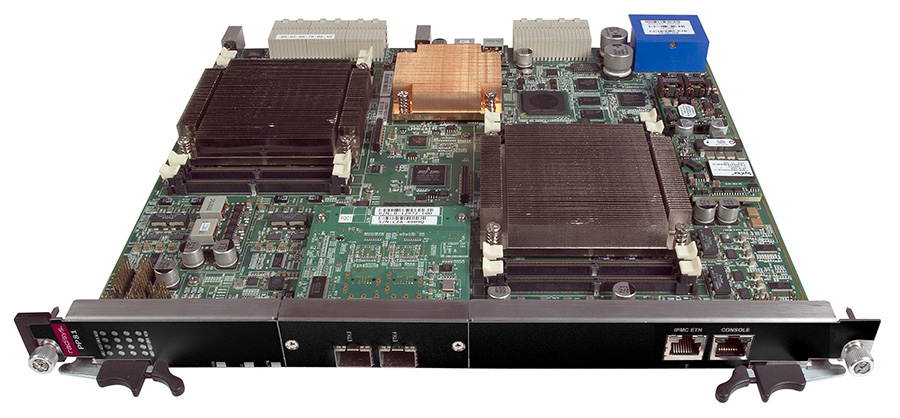 Additional Specifications
Processing
Dual Broadcom XLP832 multi-core packet processor
CPU includes security engines, network accelerators and fast messaging network
Memory
Up to 32GB per CPU (64GB per board)
On-board Flash memory
Connectivity
Base interface compliant to PICMG 3.0 (dual redundant 1GbE)
Fabric interface compliant to PICMG 10G and 40G standards
Optional hub switch capability in 6-slot chassis
Up to 160Gbps external I/O
Hardware Acceleration
XLP832 security engines
NLS2008 Regular Expression Engine (RTM option)
Optional EZchip NP4/NP4L co-processor for traffic management, ingress/egress processing
Software Support
Broadcom Linux & Fast Path SDK, Wind River PNE LE 4.0
FlowEngine DPI Framework
NLS2008 RegEx SDK
6WINDGate software framework
Future Trillium fast path modules
CPU / Memory
Dual Broadcom XLP832 packet processors
8 Multi-threaded MIPS cores per processor
Integrated security engine including Snow3G, Kasumi, IPsec, etc.
Up to 32GB memory per CPU
Dual redundant 1GbE base interface
10G & 40G Fabric interfaces
Front & rear I/O up to 160Gbps (total)
RJ45 Management Port
RJ45 Console Port
Software
Wind River PNE LE Linux 4.3
Broadcom XLP SDK
– Linux distribution with hyperexec
– Fast path executive
– Debug & development tools
– Example software and benchmark code
Application software
– FlowEngine DPI Framework
– Trillium fast path control and bearer plane protocols (e.g., SCTP, eGTP, etc.)
– Network and routing protocols including fast path and slow path functions
Mechanical & Environmental Compliance
Standard 8U single-slot (6 HP) front board and RTM
Operating environment:
– Temperature: 0C to +55C
– Humidity: 5%-80% (non-condensing)
– Vibration: 20Hz-2KHz random multi-axis, 0.5G RMS
Storage/transportation environment:
– Temperature: -40C to +85C
– Humidity: 5%-95% (non-condensing)
– Vibration: 20Hz-2KHz random multi-axis, 6G RMS
Assembly components meet UL 94-V0 flammability rating
Rear Transition Modules (RTM)
10GbE SFP+ (8x)
10GbE SFP+ (8x) with Broadcom Regex Engine
Regulatory Compliance
UL 60950-1 Safety of Information Technology Equipment
IEC/EN 60950-1 Safety of Information Technology Equipment
FCC Part 15, Subpart B, Class A
CE Mark – Meets EMC directive 89/336/EEC
Designed for Telcordia NEBS GR-63-CORE and GR-1089-CORE Level 3
RoHS 6 / 6 Compliant