Dual Intel® Xeon® E5-2600 v3
The ATCA-4700 is a 10th generation, high-performance, single-slot compute blade based on the dual socket E5-2600 v3 Intel® Xeon® processors with 8 VLP DIMM sockets.
ATCA-4700 compute module is ideal for Deep Packet Inspection (DPI), packet processing, video optimization, applications that require High Density I/O and the highest performance processing possible.
Server Class Performance
Developers want the most performance they can get in an ATCA blade. The ATCA-4700 provides 40GbE network throughput and reduces the number of blades in a system. The ATCA-4700 provides an optimized cost-performance range of E5-2600 v3 processors with capacity up to 512Gb of DDR4 memory via 8 VLP DIMM sockets. This combination of processor and memory density enables the highest processing performance possible in a single slot.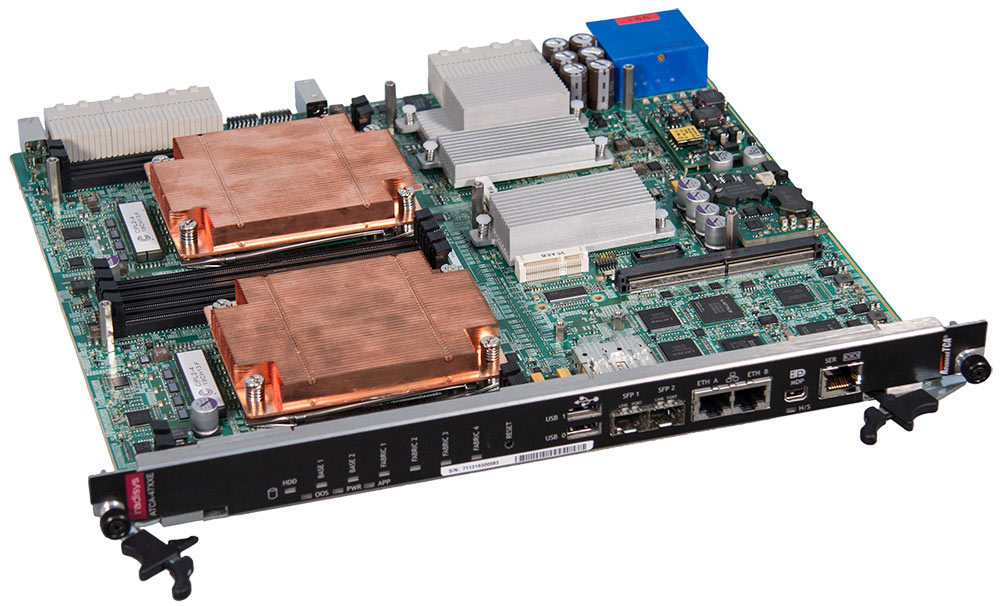 Additional Specifications
Single slot PICMG 3.0/3.1 compliant
Dual socket Intel Xeon E5-2600 v3 processors
Dual or Quad 40GbE ports via backplane I/O

Up to 160 Gbps to fabric in an active-active configuration

Memory capacity up to 512GB, current support of 128GB DDR4 VLP DIMMs
On board dual mSATA SSD
Front Panel I/O:

Dual 10GbE ports
Dual 1GbE ports
Dual USB 3.0
1 RS-232 serial port (RJ-45)
Mini-Display Port (MXM)

75W and 105W processors supporting a range of performance
ETSI and NEBS Ready
RHEL 6.x, WR 5.x, Ubuntu
FEATURE
FUNCTION
DESCRIPTION
PHYSICAL
Dimensions
8Ux6HPx280mm ATCA, single slot
Compliance
ICMG 3.0 Revision 3.0, PICMG 3.1 Revision 2.0
PROCESSOR SYSTEM
CPU
Dual Intel Xeon E5-2600 V3 Series:

E5-2658v3, 12-core, 2.2GHz, 30MB L3 cache, 105W
E5-2648Lv3, 12-core, 1.8GHz, 30MB L3 cache, 75W
E5-2628Lv3 10-core, 2.0GHz, 25MB L3 cache, 75W
E5-2618Lv3, 8-core, 2.3GHz, 20MB L3 cache, 75W
E5-2608Lv3, 6-core, 2.0GHz, 15MB L3 cache, 52W

Chipset
Intel C610 PCH chipset
QPI Speed
12c: 9.6 GT/s; 10/8c: 8.0 GT/s; 6c 6.4GT/s
MEMORY
Technology
Registered ECC DDR4 - 12c: 2133MHz; 10/8/6c: 1867MHz
Capacity
128 GB maximum with current technology, capacity for 512GB
Sockets
8 284-pin VLP DIMM
ETHERNET FABRIC
Fabric PICMG (3.1)
160GE fabric via 40GBASE-KR4, 10GBASE-KR, 10GBASE-KX4, 1000BASE-KX Option 1, 1-K, 1-KR, 9, 9-K, 9-KR using Intel XL710
Controller
40GbE-Intel XL710, 10GbE-Intel X710
BASIC FABRIC
Interface
Dual 10/100/1000BASE-T
Controller
Intel i350
Front Panel
2x 10GbE SFP+, 2x 1GbE RJ45
Front Panel Controller
10GbE-Intel X710, 1GbE-Intel i350
STORAGE
Storage
2x mSATA on front blade, MXM with 2x 1.8" SSDs, RTM options available
iSCSI
Support for Base & Fabric
FRONT PANEL
I/O
2 USB 3.0 connectors, 2 1000BASE-T Ethernet connectors (RJ-45) user, 2 10GbE SFP+ modules (Not Included), 1 Serial Port
LEDs
Hot Swap (Blue), Red Out of Service (ATCA "LED 1?), Green In Service (ATCA "LED 2?), Activity and status indicators for Ethernet Interfaces
Mechanical
Hot Swap extraction ejector, Reset Button
Expansion / Acceleration
Optional MXM 3.0 interface supports dual 1.8" SSD or Intel Communications Chipset 8955 encryption acceleration
RTMS
A5408-CPU-RTM
Dual SAS HDDs, 2x 10GbE ports
A5409-CPU-RTM
8x10GbE using QSFP+, 2x 10GbE from front blade, 1x serial port (RJ45), 1x USB
A5406-CPU-RTM-FC10G
Dual 8Gbps Fibre Channel, HDD, 2x 10GbE ports
SOFTWARE
Operating System (standard)
Wind River 5.x (64-bit) Red Hat Enterprise Linux 6.x (64-bit) Ubuntu (tbd) VMWare Certified 6WindGate Support
POWER
Per Blade
200W-305W Max depending on configuration
ENVIRONMENTAL
Temp (operating)
Continuous: +5°C to +45°C, Short Term: -5°C to +55°C (Depending on Processor Option)
Temp (storage)
-40°C to +70°C
Vibration (operating)
0.1g, 5 to 100 Hz and back, 0.1 octave/min sine sweep 3
Rel Humidity (operating)
Continuous: 5% to 85% RH non-condensing, Short Term: 5% to 90% RH non-condensing at +30°C
Rel Humidity (storage)
Continuous: 5% to 90% RH non-condensing at +40°C, Short Term: 5% to 95% RH non-condensing at +40°C
REGULATORY
Safety
UL/EN/IEC 60950-1, CSA 22.2
EMC
FCC Part 15, Class A, EN 550022: 1998, Class A 60950
WARRANTY
-
Two years, parts only