Dual Intel Xeon "Sandy Bridge" ATCA Compute
The ATCA-4600 is a 9th generation single board compute module from Radisys. It is a high performance, single slot ATCA blade based on either the dual socket E5-2448L Intel Xeon processor or the E5-2428L Intel Xeon processor.
ATCA-4600 Sandy Bridge ATCA compute module is ideal for control plane and server functions for LTE wireless infrastructure, Deep Packet Inspection (DPI), IPTV, IP Multimedia Subsystem (IMS). The ATCA-4600 provides 40-Gigabit fabric connectivity, 12 DDR3 DIMM sockets, a mezzanine slot, and several optional RTM offerings with additional storage and network interface choices.
High Performance / Low Cost
The dual eight-core E5-2448L processor provides higher performance at a lower cost per cycle than the previous generation of single quad-core L5518 processor ATCA modules. Support for Hyper-threading in this dual processor SMP design allows the 16 cores to process up to 32 threads simultaneously, so to the OS the processor appears as 32 separate cores.
The ATCA-4600 Sandy Bridge ATCA compute module integrated memory controller significant reduces memory latency. Support for 12 DDR3 VLP RDIMMs allows memory density of up to 96GB, while providing a cost-effective solution for applications that have lower density memory requirements.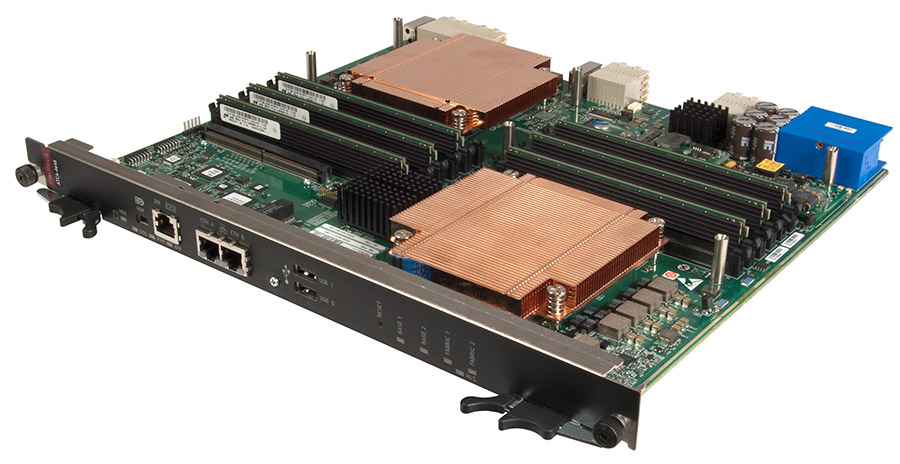 Additional Specifications
Storage Options
The ATCA-4600 supports multiple storage options. Optional dual user flash can support up to 16GB each, providing a total of 32GB of storage. This storage can function as a boot device, so it can be used to store an operating systems and application image, eliminating the need for a hard drive.
The ATCA-4600 Sandy Bridge ATCA compute module supports a storage mezzanine MXM card with up to two 1.8" SATA SSDs. One of the several optional RTMs has a SAS controller that supports RAID (0/1), two external SAS connectors and an additional hard drive, allowing a RAID to be set up betwen the mezzanine, RTM, or remote storage.
The RTM board also supports iSCSI storage and Fibre Channel over both the base and fabric, allowing the use of an ATCA, external iSCSI, or Fibre Channel storage device.
EFI – Industry-Standard Replacement for BIOS
The ATCA-4600 is based on EFI which is a significant improvement over the old legacy BIOS firmware. The EFI provides a pre-operating system shell where customers can build and execute EFI applications such as setup, OS install, diagnostic, or configuration utilities.
Virtualization
Support for extended VT-x, VT-d, and SR-IOV on the board decreases the overhead associated with virtualization. The ATCA-4600 has been validated with leading hypervisors such as VMware vSphere and is also certified for VMware ESXi 5.0, making it the ideal platform where virtualization is required.
System Management, Reliability and High Availability
The ATCA-4600 Sandy Bridge ATCA compute module is designed for High Availability (HA) applications providing 99.999% up time. An Intelligent Platform Management Controller (IPMC) provides system management functionality compliant with the IPMI specification, and includes features such as standard e-keying, remote upgrade capability, IPMI-over-LAN, Serial-over-LAN, and message bridging and messaging support.
Platform-Level Solutions
The ATCA-4600 Sandy Bridge ATCA compute module is available as a fully-validated component in the Radisys family of T-Series platforms which include 2, 14 and 16 slot options. The module is fully interoperable with Radisys DSP, Packet Processing and Switch products, and the board has been validate with various and storage components.
Single slot PICMG 3.0/3.1 (Option 1, 9) compliant
Dual Intel Xeon processors

8-core E5-2448L, 6-core E5-2428L
Integrated Memory Controller
Support for Hyper-Threading

Dual 40Gb/10Gb/1Gb Ethernet Fabric Interface

Dual 1Gb Ethernet Base Interface

12 DDR3 VLP RDIMM Sockets

Support for up to 96GB Memory

Support for Multiple storage options

Optional Dual User Flash of up to 16GB each
Supports dual SSD MXM cards
Up to two optional RTMs support an additional drive and provide HW RAID (0/1) and provides 2 SAS ports
Supports iSCSI on base & fabric

Mezzanine Site
Based on EFI Firmware

Pre-OS Shell
Ability for customer to create unique EFI applications

OS Support

Wind River 4.0, 64-bit
Red Hat Enterprise Linux 6.1, 64-bit
MontaVista CGE 6.0, 64-bit
FEATURE
FUNCTION
DESCRIPTION
PHYSICAL
Dimensions
8Ux6HPx280mm ATCA, single slot
Compliance
PICMG 3.0 Revision 3.0, PICMG 3.1 Revision 1.0 (Revision 2.0 planned when published)
PROCESSOR SYSTEM
CPU
Dual Intel Xeon E5-2448L (8-core with Hyper-threading) or E5-2428L (6-core with HT)
Cache
20MB (E5-2448L) or 15MB (E5-2428L)
Chipset
Intel C604
QPI Speed
Up to 8.0 GT/s
MEMORY
Technology
Registered ECC DDR3 1600MHz or 1333Hz
Capacity
96GB maximum
Sockets
12 240-pin VLP DIMM
ETHERNET FABRIC
Fabric PICMG (3.1)
40GBASE-KR4, 10GBASE-KR, 10GBASE-KX4, 1000BASE-KX Option 1, 1-K, 1-KR, 9, 9-K, 9-KR
Controller
Mellanox ConnectX-3 EN
BASIC FABRIC
Interface
Dual 10/100/1000BASE-T
Controller
Intel i350
MEZZANINE SITE
MXM Card
STORAGE
Flash
Optional Dual 16GB User Flash (32GB total)
HDD
Dual SSD MXM (see RTM for additional options)
iSCSI
Support for Base & Fabric
FRONT PANEL
I/O
2 USB 2.0 connectors, 2 1000BASE-T Ethernet connectors (RJ-45), 1 RS-232 Serial port connection (RJ-45)
LEDs
Hot Swap (Blue), Red or Amber Out of Service (ATCA "LED 1"), Green/Amber Power Good (ATCA "LED 2"), Amber Application defined, Activity and status indicators for dual Ethernet (RJ-45)
Mechanical
Hot Swap extraction ejector, Reset Button
OPTIONAL RTMS
A5400-CPU-RTM
Supports an Optional 1 SAS/SATA SFF HDD, 1 USB 2.0 Connector, 2 SFP Modules (Not Included), 2 SAS Ports, 1 RS-232 Serial port connection (RJ-45)
A5401-CPU-RTM-FC
Supports an Optional 1 SAS/SATA SFF HDD, 1 USB 2.0 Connector, 2 SAS Ports, 1 RS-232 Serial port connection (RJ-45), two 8 Gbps Fibre Channel
A5402-CPU-RTM-SAS
Supports an Optional 2 SAS/SATA SFF HDD, 1 USB 2.0 Connector, 2 x4 mini HDD Gen 2 SAS Ports, 1 RS-232 Serial port connection (RJ-45)
A5406-CPU-RTM-FC10G
Supports an Optional 1 SAS/SATA SFF HDD, 1 USB 2.0 Connector, 2 1GbE SFP Modules (Not Included), 2 10GbE SFP+ Modules (Not Included), 2 SAS Ports, 1 RS-232 Serial port connection (RJ-45), two 8 Gbps Fibre Channel
SOFTWARE
Operating System (standard)
Wind River 4.0 (64-bit) Red Hat Enterprise Linux 6.1 (64-bit) MontaVista CGE 6.0 (64-bit)
POWER
ATCA-4600
200-225W Max depending on configuration
ENVIRONMENTAL
Temp (operating)
Continuous: +5°C to +40°C, Short Term: -5°C to +55°C
Temp (storage)
-40°C to +70°C
Vibration (operating)
0.1g, 5 to 100 Hz and back, 0.1 octave/min sine sweep 3
Rel Humidity (operating)
Continuous: 5% to 85% RH non-condensing, Short Term: 5% to 90% RH non-condensing at +30°C
Rel Humidity (storage)
Continuous: 5% to 90% RH non-condensing at +40°C, Short Term: 5% to 95% RH non-condensing at +40°C
REGULATORY
Safety
UL/EN/IEC 60950-1, CSA 22.2
EMC
FCC Part 15, Class A, EN 550022: 1998, Class A 60950
WARRANTY
-
Two years, parts only