Open Source Hardware and Software
Discover a truly open, software-defined services delivery infrastructure
Traditional telco central office environments are characterized by proprietary hardware platforms, with closed embedded software functions. Various generations of equipment over time have left operators with a complex infrastructure that is expensive to manage and operate, while limiting their ability to deploy and generate revenues from new services.
DCEngine utilizes the principals of highly efficient OCP architectures, delivering rack-scale compute, storage, and networking resources based on open COTS technology, with optimizations for telco central office environments, including NEBS, emissions, seismic, and telco power environments.
But CSPs and data center operators are looking for more than just rack hardware from their NFV infrastructure suppliers. That is why Radisys will pre-integrate your DCEngine platform with your required open source platform and orchestration software, including Ubuntu, Openstack, ONOS, XOS, and Docker software. Hence, when DCEngine arrives at your datacenter, it can be quickly installed and turned up, allowing for rapid installation of your NFV and SDN applications on top of DCEngine, resulting in accelerated time to market.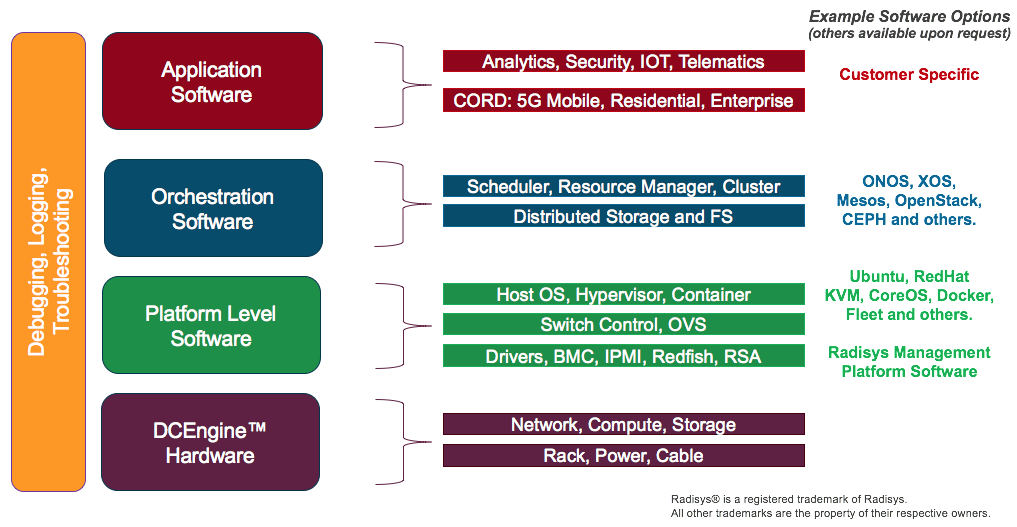 Benefits
Pre-integrated and fully support leading Open Source and commercial software
Faster turn-up results in faster time-to-market
Maximum flexibility to deliver the dev-ops environment
Proprietary application software can be added on top of the DCEngine platform