Introducing the Radisys DCEngine
The new DCEngine framework transforms service provider central offices into SDN-enabled virtualized data centers. DCEngine provides a multi-rack level network functions virtualization (NFVi) and container based infrastructure for hosting thousands of virtualized network functions (VNFs) and applications under open software-defined networking (SDN) control.
DCEngine utilizes the principles of highly efficient open compute platform (OCP) architectures and integrates fully supported open source software. Radisys has built flexibility into DCEngine to address telco central office demands for seismic, power, emissions and NEBS, which are above and beyond the traditional data center requirements. Service providers use DCEngine to provide pools of compute and storage resources that they can quickly scale to meet their evolving service requirements while improving agility in their service delivery. Radisys' wealth of telecom platform expertise, along with 25+ years of experience providing telecom professional services, makes us the ideal partner for service providers transitioning to the hyperscale data center.
DCEngine is shipping and already deployed in one of the world's largest mobile operators
High density compute, network and storage
Pre-integrated in ready-to-deploy frames
Meets telecom next-generation central office & data center specifications
Integrates with NFVi & SDN controllers & management applications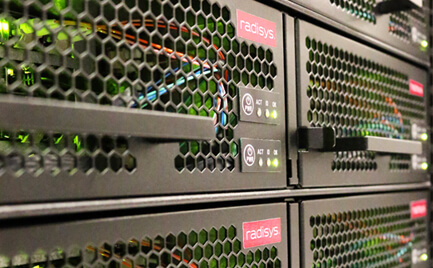 Modular Architecture – facilitates compute, storage & networking resource balancing to align with application requirements
Robust – meets NEBs temperature & seismic requirements
Highest Density – delivers low cost hyperscale NFVi
Fastest MTTR (mean time to repair) – designed for rapid module replacement.
Long Life Cycle and Managed Supply Chain – avoid unplanned changes and end-of-life notifications
Ready to deploy – available today to accelerate new service rollout
Professional Services
Radisys Professional Services help our customers migrate efficiently to a telecom data center infrastructure with open source hardware and software components. We leverage our 25+ years of telecom expertise to deliver DCEngine solutions directly into your data center, pre-integrated with all your required platforms software, ensuring you can quickly enable your applications.  Our experts will ensure compliance to your data center power, cooling and space requirements and will integrate and validate any needed platforms software: operating systems, network OS, and orchestration software.
Learn More
Radisys is Committed to Open Innovation
Radisys has partnered with both the OCP community as well as ON.LAB to help accelerate the adoption and principles of the Open Compute and Open CORD missions.
DCEngine is available for shipment today.