New Opportunities for Small Cells and DAS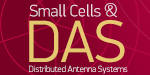 I'm reflecting recently about the possibilities of combining Distributed Antennae Systems (DAS), with small cells. We're used to thinking of DAS as a more powerful but higher-cost solution than small cell products. But as DAS vendors work to take better advantage of in-building wireless technologies, there are new opportunities to combine small cells with DAS in products that leverage the best qualities of both—the lower cost and lower power consumption of small cell products with the ability of DAS to support multiple operators and larger networks with multiple macrocells.
Combining the two technologies also has the potential to increase scalability, making it easier to add extra capacity, and availability, by breaking down large DAS zones into a number of smaller zones, thereby reducing the impact of outages. A combined solution has promise for LTE networks today, but could expand into 3G or multimode (3G/LTE) tomorrow.
Radisys has been a leader in small cell technology for years, and that's a business we understand well. It's exciting to see a whole space of possibility open up as we continue to imagine new ways to develop and use what we know.
David Chambers of ThinkSmallCell recently interviewed me to discuss our viewpoints on why combining small cells with DAS offers several benefits. I invite you to read his article entitled: Radisys Marry DAS with Small Cells. Check out the interview and please feel free to contact me directly (renuka.bhalerao@radisys.com) if you would like to discuss how Radisys is helping DAS vendors with a more efficient and cost-effective solution.