My Virtualization Journey from the Enterprise to the Telco World
Everyone has a past, and mine includes ten plus years on the virtualization journey, building and selling servers into the enterprise segment. I developed and brought a KVM-based hypervisor to market, working with my engineers on advanced management capabilities that delivered on the promises of virtualization. I'm now living in the Telco world, and while there are significant differences in requirements, I feel like I'm reliving the virtualization adoption cycle.

However, let's make sure we're clear: While the patterns of adoption have similarities, the enterprise cloud is not the telecom cloud. The telecom industry's requirements for five-nines availability, scalability, reliability, low latency and complex networking must be met. Additionally, operators want to leverage the significant investments they've already made in their telecom infrastructure.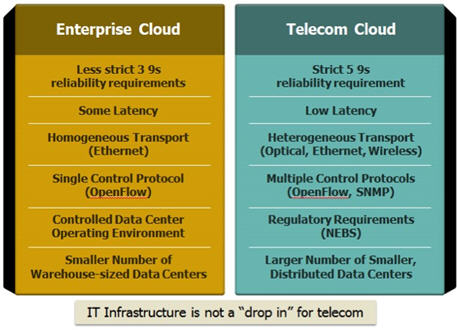 The Journey to Virtualization
The early 2000s marked the first wave of virtualization in the enterprise realm, driven by the desire for consolidation and CAPEX savings. Before virtualization, leading server OEMs experienced single server utilization in the 30-40% range or lower. This first wave of adoption improved IT efficiencies; the telecom world is looking for similar efficiencies in terms of improved hardware utilization.

The next wave introduced a dynamic world in which virtual machines could be moved and manipulated across multiple servers with a shared storage solution, transforming CAPEX savings into operational savings and enabling the ability to dynamically move workloads around a pool of resources. High Availability (HA) systems was another significant benefit. Server availability with some flexibility became the second big wave, driving the virtualization adoption into enterprises and SMBs.

However, it's important to note that HA in enterprise is a completely different from HA in telecom. In the enterprise, the application must simply be available. It is accepted that a user must "retry" if there is a service interruption. Telecom is not so simple. Not only must the application always be available, but when there is a disruption then there must be no impact to the end-user. This has implications around maintaining state information for a large number of applications.

The third wave increased agility and reduced time-to-market, driving additional revenue. In this wave, a company's network can achieve a competitive advantage, with a level of flexibility that was unimaginable 20 years ago. This is one area where there is no difference whatsoever. Operators also want improved agility and reduced time-to-market.

So how does this journey translate to the telecom world? How fast will mobile operators adopt virtualization? Operators need to walk before they can run and server consolidation seems to be the first logical step for Telcos as it was for datacenters. I anticipate the adoption curve will be faster, as we can draw on the experience and lessons learned in enterprise. Time will tell, but at Radisys our T-Series platforms for NFV and SDN deployments are designed to ensure that our customers can begin their own virtualization journey to start realizing the benefits of the telecom cloud today.