Mobile Operators Need SDN/NFV. Here's Why…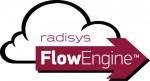 Earlier this summer, I attended Light Reading's Big Telecom Event in Chicago. A throwback to the old SUPERCOMM days, the BTE attracted leading mobile operators and the telecommunications industry to discuss and debate the future of the mobile network.
One thing that wasn't up for debate is the need for SDN/NFV technologies as mobile operators seek to deploy software-centric networks. According to Heavy Reading, 50 percent of mobile operators are already testing NFV solutions in their networks, while the other 50 percent are considering NFV deployments.
At BTE, I had the opportunity to sit down with Will Allen with Light Reading to discuss why mobile operators need to deploy SDN/NFV to reap the benefits of the cloud.
SDN offers advantages of flexible control of the network to deliver OpEx savings, while NFV offers the ability to pool resources and simplify the network infrastructure for both CapEx and OpEx gains. Our new FlowEngine technology helps our customers make the transition to and SDN/NFV environment by delivering intelligent traffic distribution in a software-centric network.
I encourage you to check out the full interview HERE and let me know in the comments section if you have any questions about FlowEngine or deploying SDN/NFV.