Consumable Mobile Video Services Critical to ARPU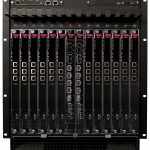 For mobile operators to capitalize on mobile video, and, in turn, increase ARPU, they have to build their networks in such a way that mobile value added services (VAS) can be offered to their customers. But what good are these revenue-generating offerings if consumers find them complicated to adopt or consume?
It's the equipment manufacturers' job, then, to ensure a complete end-to-end mobile video service delivery infrastructure. We've teamed up with CounterPath to give our service provider and TEM customers the ideal solution to meet this unique network challenge.
When featured in an IMS architecture, the Radisys MPX-12000 enables the delivery of mobile video services such as Multimedia Ring Back Tones (MRBT), Interactive Voice and Video Response (IVVR), Voice-Activated Switching (VAS) conferencing, and Continuous Presence (CP) conferencing. But, to consume these mobile video services hosted in the IMS core, TEMs also need to provide a consistent IMS-based end-user interface that supports multiple mobile platforms.
CounterPath's Bria desktop and mobile softphone application enables an intuitive and appealing interface that allows users to adopt and consume mobile video VAS.
You can see where I'm going here. The integration of the Bria application with MPX-12000 is a one-two punch for accelerating operators' revenue generation from mobile services, enabling the delivery of today's most sought after video offerings via a consumer friendly interface. The kicker here is that the MPX-12000's performance increases efficiency while it's standards-based design saves time and money, so network costs decrease as consumers take advantage of additional value-added services.
CTIA 2012 is right around the corner, and we'll be demonstrating a working integration of the CounterPath Bria 3 softphone on a Laptop PC, iPhone, and iPad with a Radisys video MRF. All of the mobile services I mention above will be showcases, so I encourage you to stop by and see me at the show to learn more about this exciting new offering!