Evolution of Transcoding Architecture in the Network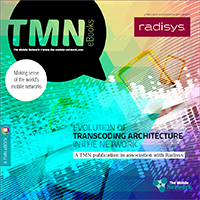 At Radisys, we believe that evolving to an architecture where media transcoding acts as an adjunct function in the network will enable operators to support this transition flexibly and cost-effectively.
In this easy to read and very visual eBook, we discuss how adjunct media processing will extend the lifecycle of existing network elements whilst enabling operators to leverage the full economies of cloud computing platforms and, where appropriate, Network Functions Virtualization.
We respect your privacy and will NOT sell your data.