MediaEngine™ for Real-time Transcoding
Enable the evolution of services across network generations and devices
As mobile operators deploy their LTE networks and next-generation devices come to market, transcoding will be critical to the seamless delivery of voice, video and data services. At the same time, many communications service providers (CSPs) are seeking to rapidly deploy VoWiFi and WebRTC services, but are challenged by the growing number of audio and video codecs. Maintaining device interoperability between legacy and next-gen services will require real-time transcoding somewhere in the media path between devices.
Today, the transcoding of media packet streams is typically occurring in media gateways or session border controllers (SBCs) that integrate other network functions. Changing transcoding requirements, driven by the increased usage of IP voice and video services using advanced codecs, can be met by evolving toward an architecture that enables communications service providers to deploy flexible and economical media processing in the network.
MediaEngine™ Transcode Resource Function (TRF) products allow communications service providers to deploy transcoding as an adjunct function which scales independently from, and complements existing legacy network elements such as SBCs and media gateways.
By decoupling transcoding from legacy network elements, communications service providers can reduce the number of transcoding nodes in their network and eliminate the need for expensive forklift upgrades typical when adding HD transcoding capabilities to today's SBCs and media gateways. The MediaEngine TRF includes audio transcoding with VQE; video transcoding with transrating and frame rate adaptation for all supported video codecs; and support for WebRTC gateways requiring transcoding between WebRTC and SIP endpoints. The MediaEngine TRF is available in both a hardware and software option, providing operators with the flexibility to choose the option that meets their requirements. The MediaEngine™ TRF-12000 platform offers advanced IP media transcoding and transrating capabilities with the scalability and proven reliability required to meet the most demanding operator needs to deliver HD voice and advanced video services. The MediaEngine™ Virtualized TRF (vTRF) delivers carrier-class transcoding in a software product offering with performance-tuned virtualization support and cloud deployment capabilities.
Adjunct transcoding can be integrated into your network in 2 ways.
In a Back-to-Back User Agent (B2BUA) architecture, the MediaEngine TRF is deployed behind the SBCs, and when appropriate the TRF augments the session description protocol (SDP) information to add in the missing compatible codecs and applies transcoding to the media stream when the call is established.
B2BUA - "Bump in the Wire"
An architecture that is easier to deploy, where there is simple and straightforward transcoding requirements.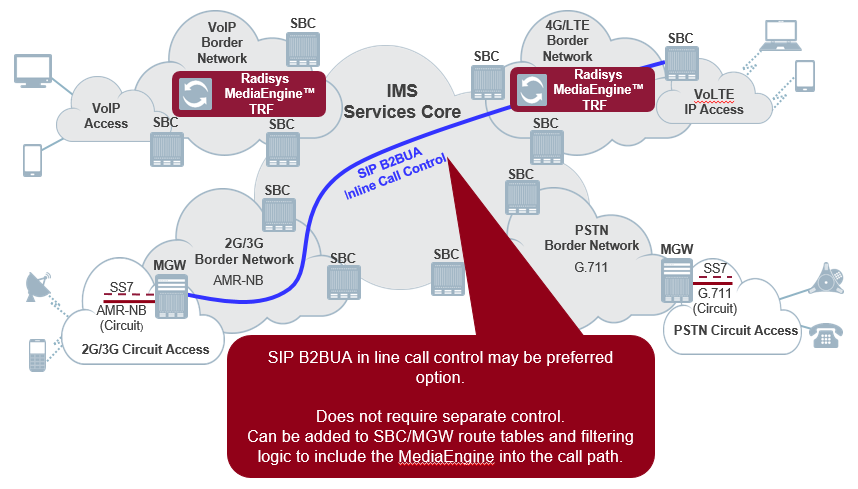 The second approach utilizes 3rd Party Call Control (3PCC). SBCs forward the call onto the Centralized Call Routing Engine, which interprets the SDP information and redirects the media packet stream to the MediaEngine TRF to apply transcoding. Enhancing existing SBCs with MediaEngine TRF, is more economical than adding more SBC boxes.
3rd Party Call Control
For cases that require more sophisticated routing and greater control in the network architecture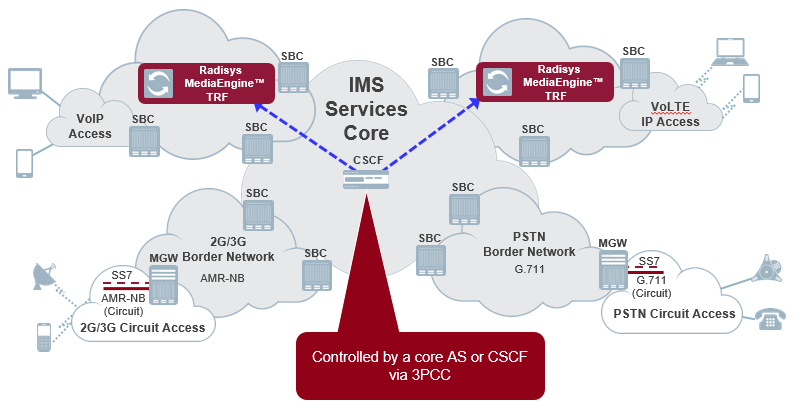 By enabling enterprise and consumer focused applications that are interoperable across different generations of devices and networks, CSPs will generate new opportunities to monetize their network investments.
Benefits
Adjunct transcoding architectures deliver high-performance HD audio and advanced video transcoding, independently scalable from call processing in legacy SBC and MGW elements.
Helps reduce costs by decoupling transcoding from legacy devices that don't scale well with modern era codecs
Helps futureproof the network by enabling software upgrades when new codecs are introduced into the network
Simpler deployment of new services with new media types
Consolidation of expensive transcoding resources
Delivers a shared transcoding resource for multi-vendor environments