The RLC protocol layer along with the Media Access Control (MAC) protocol forms the data link layer of the UMTS radio network at the Uu interface that operates on the Radio Network Controller (RNC) and the user equipment. The RLC provides radio link management for the radio interface. The RLC layer supports RLC connection establishment and release, with data transfer services to the upper layers in the acknowledged, unacknowledged, and transparent modes. RLC is terminated in the Mobile Station (MS) on the UE side, and Radio Network Controller (RNC) on UTRAN. The following diagram illustrates the UMTS radio interface protocol architecture.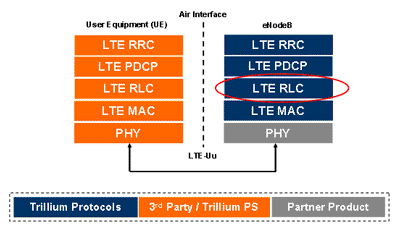 Trillium offers a standards-based RLC software solution that is used by Telecommunications Equipment Manufacturers of Node Bs, Radio Network Controllers, Femtocells, Femtocell Gateways, test equipment, or other products to:
Speed time to market
Lower development costs
Reduce the risk of internally developing RLC functionality
The RLC provides the following basic capabilities:
Provides three different modes of services viz., acknowledged (AM), unacknowledged (UM) and transparent (TM) to RLC users
Supports different Service Access Points (SAP) for control plane: RRC and data plane: PDCP, BMC and AMR entities
Uses services of MAC on the lower interface to transport RLC PDUs to the peer
Provides hooks for ciphering/deciphering for RLC acknowledged and unacknowledged mode
Product Information
The RLC software is a portable C source code with a modular design and simple interfaces which can be easily ported into any environment under any operating system.
Product deliverables consist of C source software, documentation, training material, test framework, a warranty and technical support.
Extensive debugging capabilities are provided including debug printing and function traces. This is useful in embedded systems in which other symbolic debugging is unavailable. Extensive error checking and recovery mechanisms are available to deal with normal error conditions, which can be enabled using compile time options.

Additional Specifications
Provides both UE and UTRAN side operation
Supports both symmetric and asymmetric Radio Bearers (RB)
Supports status polling and prohibit, status reporting and prohibit, SDU discard and radio link RESET procedures.
Supports High-Speed Downlink and Uplink Packet Access functions and data rates
Supports Multimedia Broadcast Multicast Services (MBMS)
Supports Packet-switched Streaming Services (PSS)
Recovers from detected errors and notifies unrecoverable errors
Optimized for execution in constrained processing environments to meet Femtocell requirements.
Optimized for execution in multi-core and hardware threaded processors.
Conforms to Trillium Advanced Portability Architecture (TAPA)
Benefits of licensing Trillium Protocol Software
PRODUCT INTERWORKING
The Trillium RLC software interworks with Radisys's Trillium MAC and Trillium RRC software products.
CONFORMANCE
The RLC product conforms to the following standards:
3GPP TS 25.322 RLC protocol specification v3.18.0, 6/2004 (Rel-99)
3GPP TS 25.322 RLC protocol specification v4.12.0 6/2004 (Rel-4)
3GPP TS 25.322 RLC protocol specification v5.13.0 12/2005 (Rel-5)
3GPP TS 25.322 RLC protocol specification v6.10.0 7/2007 (Rel-6)
3GPP TS 25.322 RLC protocol specification v7.3.0 7/2007 (Rel-7)
Contact us for a copy of the Trillium RLC Functional Specification, which provides a detailed implementation description.