The MAC layer interacts with the physical layer, NodeB Application layer, the Radio Link Control (RLC) layer, and the Radio Resource Control (RRC) layer. The MAC layer provides unacknowledged transfer of MAC Service Data Units (SDUs) between peer MAC entities. The RRC/NodeB Application layer configures the MAC layer. Depending on the configuration information received from the RRC/NodeB Application layer, MAC allocates and reallocates radio resources. MAC also provides traffic volume measurements to RRC. The physical layer provides over-the-air transmission of MAC Packet Data Units (PDU) between peer physical layer entities. MAC is logically divided into the following subcomponents:
MAC-b supports the broadcast channel
MAC-c/sh supports common and shared channels
MAC-d supports dedicated channels
MAC-hs/ehs supports the High Speed Downlink Shared Channel (HS-DSCH)
MAC-m handles the MBMS channels mapped on to FACH
MAC-e/es supports the Enhanced Dedicated Transport Channel (E-DCH)
On the User Equipment (UE) side, MAC resides completely on the UE. On the UMTS Terrestrial Radio Access Network (UTRAN) side, MAC-b, MAC-hs and MAC-e terminates in NodeB; MAC-c/sh, MAC-d, MAC-es and MAC-ehs terminate in the Radio Network Controller (RNC). The following diagram illustrates the UMTS radio interface protocol architecture.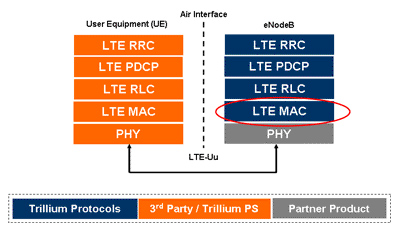 Radisys offers a standards-based Trillium MAC software solution that can be used by Telecommunications Equipment Manufacturers' of Node Bs, RNCs, Femtocells, Femtocell Gateways, test equipment, or other products to:
Speed time to market
Lower development costs
Reduce the risk of internally developing MAC functionality
Trillium MAC provides the following basic capabilities:
Mapping logical channels to transport channels.
Selection of the appropriate transport format for each transport channel depending on the current data rate
Priority handling between data flows of one or several users
Identification of UEs on common transport channels
Multiplexing of upper layer PDUs into transport blocks to be delivered to the physical layer on common or dedicated transport channels
Demultiplexing of transport blocks received from the physical layer on common or dedicated transport channels, into PDUs to be delivered to the upper layers
Traffic volume measurements
Transport channel type switching
Access Service Class (ASC) selection for RACH and CPCH transmission
RACH access control algorithm for Time Division Duplex (TDD) and
Frequency Division Duplex (FDD) modes on the UE side
CPCH access control algorithm for FDD mode on the UE side
Ciphering/deciphering for transparent mode RLC
Product Information
The MAC software is a portable C source code with modular design and simple interfaces, which can be easily ported into any environment under any operating system.
Trillium MAC is divided into two products:
Trillium Medium Access Control (MAC) – this product provides the channel management functions including MAC-b, MAC-c/sh, MAC-d, and MAC-m. It is deployed both within the NodeB (MAC-b) and the RNC (MAC-c/sh, MAC-d, and MAC-m) network elements.
Trillium Medium Access Control – High Speed (MAC-HS) – this provides the High Speed Packet Access (HSPA) functionality, include both downlink and uplink capabilities. Trillium MAC-HS includes MAC-hs/ehs and MAC-e/es components and is deployed both in NodeBs and RNC network elements.
Product deliverables consist of C source software, documentation, training material, the test framework, a warranty and technical support.
Extensive debugging capabilities are provided including debug printing and function traces. This is useful in embedded systems in which other symbolic debugging is unavailable. Extensive error checking and recovery mechanisms are available to deal with normal error conditions, which can be enabled using compile time options.

Additional Specifications
Supports UTRAN side operation
Supports forecasting the data rate (per logical channel) that needs to be supported by the logical channel for the next frame; this prevents frequent changes in the PDU size allowed on a logical channel thus enhancing the system performance
Supports Transport format selection for transport channels based on current data rate
Allows identification of UEs on common transport channels
Supports traffic volume monitoring per Radio Bearer; periodic mode traffic volume reporting as well as event triggered traffic volume reporting available
Supports low chip rate (LCR) or 1.28 mcps TDD along with 3.84 mcps TDD (roadmap) and FDD
UE variant support
Access service class (ASC) selection for RACH and CPCH transmission
RACH transmission control algorithm for FDD mode
CPCH transmission control algorithm for FDD mode
Recovers from detected errors and notifies unrecoverable errors
Supports High-Speed Downlink and Uplink Packet Access functions and data rate requirements
Support Multimedia Broadcast Multicast Services (MBMS)
Supports Packet-switched Streaming Services (PSS)
Optimized for execution in constrained processing environments to meet Femtocell requirements.
Optimized for execution in multi-core and hardware threaded processors.
Conforms to Trillium Advanced Portability Architecture (TAPA)
Benefits of licensing from Trillium
PRODUCT INTERWORKING
The Trillium MAC software interworks with Radisys's Trillium RLC, RRC, FP, and NBAP software products.
CONFORMANCE
The MAC product conforms to the following standards:
3GPP TS 25.321 MAC protocol specification v3.17.0, 6/2004 (Rel-99)
3GPP TS 25.321 MAC protocol specification v4.10.0, 6/2004 (Rel-4)
3GPP TS 25.321 MAC protocol specification v5.13.0, 6/2005 (Rel-5)
3GPP TS 25.321 MAC protocol specification v6.13.0, 3/2007 (Rel-6)
3GPP TS 25.321 MAC protocol specification v7.5.0, 7/2007 (Rel-7)