Radisys's 3rd Generation (3G) Iu User Plane Protocol (Iu UP) protocol is a complete implementation of the 3GPP TS 25.415 version 7.3.0 (2006-12). It interfaces with RTP/GTP-u/AAL2 layers at its lower interface and interfaces with a customer provided application at the upper interface.
Located in the User Plane of the Radio Network Layer (RNL) over Iu interface, Iu UP is independent of the underlying transport mechanism. The Iu UP layer exports its services through Upper Service Access Points (SAPs) and accesses the services exposed by the provider layers through its Lower SAPs. The Iu UP protocol works in two modes: transparent and support.
An integrated Iu UP protocol stack comprises of the following Radisys products:
Iu User Plane Protocol (Iu UP)
GPRS Tunneling Protocol User Plane (GTPu)
Real-time Transport Protocol (RTP)
ATM Adaption Layer Type2 (AAL2)
TCP/UDP Convergence Layer (TUCL)
The following diagram illustrates the external interfaces of the Iu-UP layer and how it fits into the environment: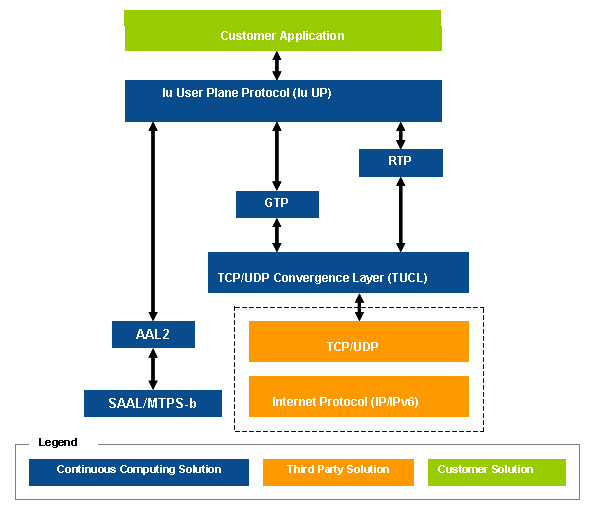 Trillium 3G Iu UP software enables network equipment providers of NodeB, Radio Network Controllers, Femtocells, Femtocell Gateways, test equipment, or other products to:
Accelerate time to market
Reduce development costs
Reduce project risk of internally developed Iu UP applications
Product deliverables consist of C source software, documentation, training, the Trillium XML Test Architecture (XTA), a warranty and technical support.

Additional Specifications
Provides procedures for data transfer in both transparent and support mode
Provides procedures for control frame transfer in support mode
Support for GTP-u, RTP and AAL2 as transport protocol
Extensive run-time error checking support
Extensive debugging support to ease system integration and testing
Provides statistics information
Conforms to Trillium Advanced Portability Architecture (TAPA)
PRODUCT INTERWORKING
Iu UP protocol stack uses the services of other Radisys products and interworks with other vendor stacks as well.
CONFORMANCE
Trillium Iu UP software conforms to:
Trillium Advanced Portability Architecture (TAPA)
3GPP TS 25.415 UTRAN Iu interface user plane protocols v7.3.0, Release 7
3GPP TS 25.415 UTRAN Iu interface user plane protocols v6.3.0, Release 6
3GPP TS 25.415 UTRAN Iu interface user plane protocols v5.5.0, Release 5
3GPP TS 25.415 UTRAN Iu interface user plane protocols v4.7.0, Release 4
3GPP TS 25.415 UTRAN Iu interface user plane protocols v3.12.0, Release 99