Intelligent Traffic Distribution Systems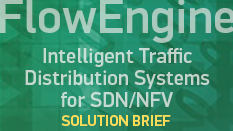 A Solution Brief
The Problem: The rapid expansion of the growth in multimedia content access, coupled with having to compete with Internet content providers for subscribers' services, makes it necessary for network operators and service providers to find new ways to manage, optimize and monetize data plane services designed for NFV deployments.

The Solution: The Radisys FlowEngine TDE-1000 is an Intelligent Traffic Distribution System designed for the challenges of large NFV deployments. By integrating a key subset of data plane features related to edge routing, switching and load balancing—while incorporating SDN control, traffic distribution and service function chaining—FlowEngine helps service providers reduce CapEx and Opex costs and improve efficiency and scalability.

Register to receive: "FlowEngine Intelligent Traffic Distribution Systems"  by submitting the form on the right.

We respect your privacy and will NOT sell your data.