Charting the Path to RAN Virtualization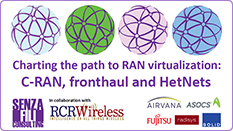 C-RAN, fronthaul and HetNet
RAN virtualization is gaining wider acceptance among mobile operators and vendors as part of the wider trend to virtualization in wireless networks that involves NFV and SDN. This report from Senza Fili Consulting, in collaboration with RCR Wireless, discusses cost considerations, performance improvements and ease of deployment issues that operators are facing today.Co-sponsors with Radisys include: Airvana, ASOCs, Fujitsu and Solid.

Register to get "Charting the Path to RAN Virtualization"
Please submit the form on the right.
We respect your privacy and will NOT sell your data.