What's Really Needed for WebRTC Service Deployment?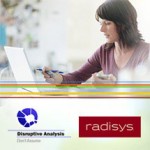 About a month ago, I attended and spoke at the WebRTC Conference & Expo held in Santa Clara, CA. It was a good event and certainly generated a lot of conversations with operators on how best to approach adding WebRTC as a service and how it can add revenue.
WebRTC is still early as far as the adoption of technology goes, but I think it will be a very important offering for the technology sector.  As operators move towards offering WebRTC, they also must consider creating synergy with IMS services, telco-OTT propositions, cloud services and developer platforms.
Rather than recreate Media Processing functions for each new service, it makes sense to deploy shared and virtualized Media Processing servers that can be re-used for different purposes. Scalability of the Media Processor is key for successful deployment and cost-efficiencies.
I think you will find this new White Paper, written by Dean Bubley of Disruptive Analysis, entitled: Addressing the Expanding Need for Media Processing in Telecoms Networks very informative. Dean explains the evolving role of media processing capabilities and how Media Processing is a fundamental building block as WebRTC and other innovative services become a differentiator for service offerings.
What I took-away from this year's event is that operator's really need a strong partnership in order to deploy these innovative services – a trusted partner with the experience to help develop a solid WebRTC deployment plan. That's where Radisys can truly help; let's talk WebRTC in 2014!