Trillium Femtotality wins Communications Solutions Product of the Year Award!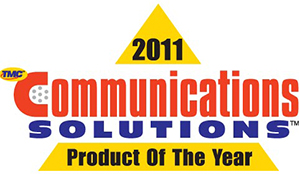 Radisys Trillium Femtotality recognized for exceptional innovation
Now that has a nice ring to it.
TMC has just named Radisys Trillium Femtotality as a 2011 Communications Solutions Product of the Year. At the core of Trillium Femtotality is over 150 person-years of investment, double digit deployments, and proven interoperability with the market's leading femtocell gateways — all delivered as a structured and portable software product.
Currently there are two key developments enabling new entrants and incumbents to grow the overall femtocell access point marketplace. First, the femtocell concept and its features are expanding beyond 3G residential to include a number of different small cell configurations such as enterprise, metro-area, campus and more. Also, femtocells are now reaching beyond 3G networks to support everything from 2G through 4G, including LTE and WiMAX. This expansion promises to provide operators additional tools to use in the quest for the best possible coverage and performance.
To date there has been a relatively small number of femtocell access point providers. Radisys' Trillium Femtotality meets market needs for increased supply diversity, new applications, converged device capabilities and the successful extension of the 3G residential femto to other domains. It delivers a complete femtocell application software implementation – from Layer 2 through Layer 7 – for fast femto deployments. This provides the flexibility and control of a software solution while balancing the benefits of a resell or rebrand approach.
T/cellengine/products/femtotalityhe complete portable software suite for 3G small cells is integrated across the Radisys market-leading silicon ecosystem and provides customers with the capability to control and customize their end product—meeting all the requirements for taking advantage of the expanding small cells opportunity. To learn more about this solution, check out a few of these online resources:
· Visit the Trillium Femtotality product page
· Watch the Trillium HSPA+ Femtotality video
· Read the Resource Management at the WCDMA HNB whitepaper
Congratulations to our team for this industry award win!