Radisys' TOTALeNodeB™ named a Fierce Innovation Awards Finalist by Mobile Operator Panel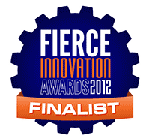 We are pleased to share that Radisys was recognized today by Fierce Innovation Awards as a Finalist in the "Last-Mile Innovation" category for our Trillium® TOTALeNodeB™ LTE small cell solution.
Fierce Innovation Awards recognize the innovative companies and products that are defining the future of the broadband communications industry. Finalists were selected by an exclusive panel of carrier-only judges including Stephen Bye, CTO and VP of Technology Development & Strategy at Sprint; Mattias Fridstrom, VP and Head of Technology at TeliaSonera International; Abhi Ingle, VP of Ecosystem and Innovation at AT&T; Tom Nagel, SVP of Business Development & Strategy, for Communications & Data Services at Comcast Cable; Todd Smith, Director of Media Relations at Cox Communications; and Jim Wales, Executive Director of Networks at Verizon. 
We are honored to be recognized by such a prestigious group of mobile operators for our small cell solution that eases their transition from 3G to LTE.
To date, traditional software approaches have lacked the level of integration required to truly change the economics of LTE small cell deployment, forcing telecom equipment manufacturers (TEMs) and operators to invest in their own R&D to complete the solution. TOTALeNodeB dramatically simplifies the development and integration of LTE small cells, enabling TEMs to reduce their development time in half.
TOTALeNodeB began international deployment earlier this year as part of the industry's first LTE Femtocell, launched by Korea Telecom. We are also working with customers on additional deployments in Korea, Japan and the UK, and we're excited to see continued traction around the world as customers partner with us to streamline their transitions to LTE.
For more information about TOTALeNodeB, please visit the product page.