Radisys' Professional Services: Custom Development at Your Service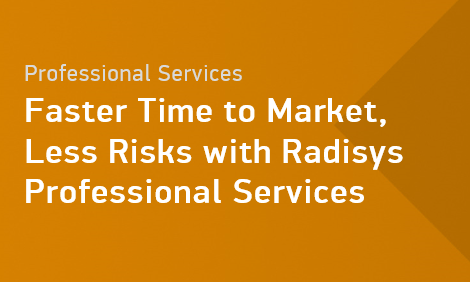 Our Professional Services team at Radisys is a big factor in our company success, augmenting our market-leading product portfolio. Some of the biggest service providers in the world depend on us to accelerate introduction of next generation communication services in their network. Since no two networks or customer product programs are the same, Radisys Professional Services can step in to help our customers get to market faster, or deploy their networks quicker.
With an offering that includes Custom Development Services, Network Design and Development, Network Audit Services, Equipment Installation and Decommissioning, Network Upgrades, and Training, our team of industry veteran telecom engineers can help our customers solve any challenge. I'd like to focus on some of the great work our team has accomplished in delivering Custom Development Services. The following are few examples from our long history of developing custom solutions for our customers.
Small Cells
Starting with our small cell software, we've created integrated LTE access point access points that provide continuous experience to enterprise 4G customers. The solution uses the 3.5 GHz band and interoperates with cloud based EPC (Evolved Packet Core) components. We've also developed carrier-grade picocells with LTE, LTE-Advanced and HetNet functionality and we've delivered a solution that offloads traffic from 3G/LTE small cells to Wi-Fi networks with dynamic flow management based on traffic type identification and operator policies.
Internet of Things
Our custom IoT solutions include a standards-based IoT platform (server and gateway) that was demonstrated in 3GPP IWF and OneM2M tradeshows. We also developed a test automation framework and validated the compliance and performance of the IoT platform. This led to a multi-year engagement with a customer that resulted in nine U.S. patents and more than 150 contributions to ETSI/M2M specifications.
Software-Defined Networks (SDN)
For our customers, we've developed a programmable edge router with load-balancing capabilities as well as a programmable intelligent switch with a network tap, filtering and flow monitoring capabilities. 
Test & Measurement
Our team has created an LTE system simulator for UE conformance and interoperability testing based on the 3GPP standard and customer acceptance criteria. We've also developed test equipment for 4G/3G/2G UEs that is being used by UE manufacturers for end-of-line testing.
IP Multimedia Subsystem (IMS)
For a tier-one mobile operator in Germany, we developed an integrated conferencing solution, combining our MediaEngine MRF and SIPWare conferencing application server, to support new applications and features for reservationless, event and ad-hoc conferencing. Check out our case study that provides more details on how we delivered the solution ahead of schedule and helped the mobile operator drive "minutes of use" growth while gaining CapEx and OpEx savings.
For more information on our Custom Development Services or our other Professional Services offerings, contact us.