Radisys Named Finalist for Two "Best of 4G" Awards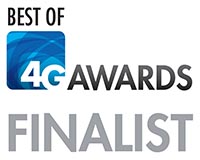 We are excited to share that Radisys has been shortlisted for two "Best of 4G" awards by the 4G World 2012 Conference and Expo. 4G World created the awards program four years ago to recognize companies driving innovation and the adoption of 4G mobile broadband. Innovation was behind both of our entries that have been named Best of 4G Finalists—the MPX-12000 which enables operators to monetize media flows while delivering 3-10x audio and video capacity improvements, and the patent pending RMS-220 which is the industry's first network appliance to combine high performance, high flexibility and serviceability in a 2U high 20-inch deep platform.
Joe Braue, General Manager of 4G World and Executive Vice President at UBM TechWeb said "Entries received in this year's program have yet again raised the bar."
The Radisys team works closely with our customers to develop products and solutions that address the key challenges they face in the transition to 4G, and it's our team's focused commitment to customer success that engineered these honored products.
We're looking forward to attending the 4G World 2012 Awards Reception on Monday, October 29 to meet with fellow innovators also up for an award and to celebrate our mutual success. Together, we are enabling the rapid development and deployment of 4G technologies.
If you plan to visit 4G World in Chicago this October 29-November 1, we hope you'll stop by our booth #432 to meet our team and learn more about our end-to-end mobile network solutions.