Radisys' Lifecycle Support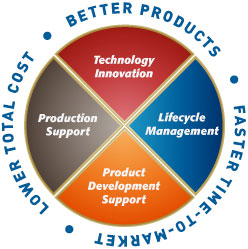 At Radisys, we back all of our products with lifecycle support and service by providing full product support, delivering the tools our customers need to lower total cost, speed development, and bring cutting-edge solutions to market. A colleague of mine, Lyn Pangares, recently asked me to sit down with her to discuss what my team of Technical Service Engineers (TSEs) brings to our customers. The result was an interesting Q&A worth sharing.
Lyn Pangares: Can you give us a general description of Radisys' service offerings and how they have evolved?
Cliff Brady: Our services encompass everything from pre-sale support, product training and integration to final product development and support through deployment. We have a team of TSEs who are always available to answer questions and assist with integration and development.  By providing an array of service offerings, we can give our customers everything they need during the product lifecycle to significantly improve development time, reduce costs and ultimately deliver better products.
Our team has evolved into a service organization that can support multiple products. The goal was to create a service team that could not only answer customers' questions, but also support the full lifecycle of the products.  We believe we've accomplished this goal.
LP: How does your team work with customers to find solutions in a timely manner?
CB: Our solutions approach is simple: isolate the problem, replicate it, allocate resources to devise a solution and implement it quickly. We have TSEs in the United States, Canada, Europe and Asia that can replicate the customer's exact environment by installing the same firmware and components our customer is using. This allows us to replicate a support issue, quickly devise a workaround  and give the customer a lasting solution.
LP: What qualities make a good service representative?
CB: Our TSEs are technical experts with a thorough understanding of our products and a solid engineering background and they possess the skills to identify a root cause down to the line of code. Additionally, TSEs will often specialize in one area, such as hardware or software, allowing us to pair a customer with a service representative uniquely qualified to resolve the challenge they are facing.
LP: And how does this translate to time-to-market and development cost advantages?
CB: Customers benefit because our TSEs are experts in our products. By tapping in to our experience and industry knowledge, customers can reduce their resource requirements, project risk and development costs. Our products are designed to be cutting-edge and serviceable. When a customer's products become mission critical, we quickly diagnose and resolve problems to prevent costly downtime. We also filter back all customer feedback to our engineers throughout the entire lifecycle of the product so that we can design higher quality and more serviceable products in the future.