Radisys DPDK Performance Benchmark for NFV Solutions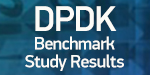 The Radisys 40G DPDK Performance Benchmark numbers are available now – and living up to expectations! The optimization and feature improvements of Intel's DPDK libraries for fast packet processing, combined with the performance of the Intel® E5-2600v3 processors on the Radisys A4700 blade, provide the base for the Radisys T-Series Platform to shine in the Layer 3 forwarding benchmarks. These benchmarks are an indicator of why the switch to Intel x86 architecture is on – the performance-price point is real. The intense interest and full scale adoption of DPDK, in conjunction with the latest multi-core processor technology from Intel, is unlike any transition Radisys has seen in the past.
Customers are 100% in and moving fast, driven by the demand of delivering an NFV solution to the market in an accelerated schedule. However, there are many moving parts to a NFV solution and many engineers are still coming up the learning curve as they go; there are few experienced engineers in architecting and developing NFV solutions. This is where Radisys can help.
The Radisys Professional Services team has years of DPDK experience and can quickly assess, recommend and assist customers who need to switch from a customized packet processing solution to an x86 DPDK solution. Radisys can help with DPDK optimization and architecting, even providing DPDK training as needed. In addition to the DPDK expertise, Radisys can work with your engineering team to architect an NFV solution based on the T-Series Platform.
Expertise is in short supply for DPDK and NFV implementations – this is the time to use the extended knowledge base available at Radisys to get your DPDK projects accelerated. Meanwhile, take a look at the T-series DPDK Benchmark Performance Report. If you haven't already made the move to adopting 40G, you may now.