Radisys' Brian Bronson Talks with Mobile Europe at Mobile World Congress – Barcelona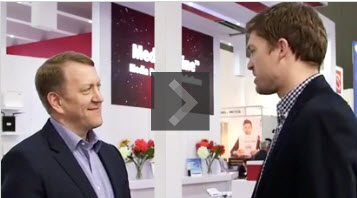 Radisys President and CEO Brian Bronson recently met with Marc Smith, group editor for Mobile Europe, at Mobile World Congress in Barcelona. The resulting video interview shares Brian's views on Radisys' transition to a software-centric company and the work underway to develop those software systems, including MediaEngine, FlowEngine and CellEngine.
 "We've spent the last couple of years transforming the company into an enabling technology provider to the telecom and cable space and we are starting to see the fruits of that labor," Brian shared.
 The interview touched on a variety of industry trends, including virtualization. Brian explained Radisys' dedication to working on virtualization across its product lines: MediaEngine is an example of virtualized Media Resource Function (vMRF), the FlowEngine product line delivers virtualized Traffic Distribution (vTD), and CellEngine can enable mobile operators to migrate to Cloud RAN architectures through centralization of many radio access network control functions into the cloud.
 Radisys is taking the collection of enabling technology, open standards, virtualization and other trends and assets, and implementing those in the telecom environment. And it's no easy task; as Brian explained, "it's a little easier to do in the enterprise space and OTT space – more difficult to do in telecom and we want to be the implementer and integrator of all those disruptive solutions, whether its our own or, frankly, the ecosystem's."
 Watch the full video from Mobile Europe to learn more.