Radisys and Octasic Shortlisted for Small Cell Industry Awards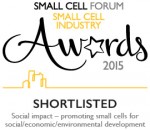 We are thrilled to share that we've been shortlisted with Octasic for the Small Cell Industry Awards in the Social Impact category. Our joint solution with Octasic is the industry's first Portable LTE Tactical Communications System for the adjacent markets (aerospace, test and public safety) that support both 3G and LTE, allowing OEMs to simultaneously support mobile broadband over LTE and legacy air interfaces. The Dual-Mode Base Station allows for the rapid deployment of outdoor small cells, rural networks, deployable networks, private cellular networks and vehicle-mounted base stations to provide coverage when it's needed, where it's needed.
Here are four real-life scenarios that could benefit from our highly compact, power-efficient, portable Dual-Mode Base Station:
1) Public Safety: If an emergency or disaster takes out the network, public safety organizations can rapidly deploy small cells to set up an emergency network.
2) Search and Rescue: Search and rescue missions can set up cellular networks in remote areas to communicate among team members.
3) Rural Communities: Cellular communications and mobile broadband can be made available to communities that aren't connected to the network, bringing the Internet to under-served regions.
The portable Dual-Mode Base Station is designed for rapid deployment delivering LTE broadband data and multimedia communications between tablets, smartphones, ruggedized terminals or heads-up display technology. It integrates Radisys' CellEngine™ TOTALeNodeB TM LTE small cell software and Femtotality 3G small cell software with Octasic's multiband, multi-standard dual-sector small cell SDR platform, the OCTBTS 3500. By adding support for both 3G and LTE small cell deployments on the same platform, customers can leverage a common software and baseband processing platform to support any combination of GSM, CDMA2000, HSPA, LTE air interfaces, or custom air interfaces.
We're passionate about utilizing small cells to assist with social, economic and environmental development. Whether it's giving soldiers a tactical advantage, helping disaster relief teams save lives, or ensuring everyone regardless of their location can have equal access to the Internet, our Dual-Mode Base Station is designed to serve the people that need it the most. We can't wait for winners to be announced at Small Cells World in London on Wednesday, June 10. It will certainly be an exciting evening for the industry. If you're planning to attend the event, we encourage you to reach out to us and schedule a meeting to discuss how Radisys solutions can accelerate your communication services.