Open Radisys: Fast Forward to More Agile, Flexible and Profitable Networks, Ready to Rise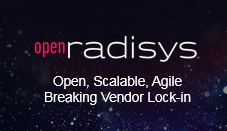 IN THE LAST 20 YEARS, 52% OF THE FORTUNE 500 COMPANIES HAVE DISAPPEARED.
Disrupt – or be disrupted.
This is a lesson that the transportation industry is learning as Uber leveraged the near 100% ubiquity of smartphones to fundamentally change how people connect with – and supply – transportation services, making it as easy as the push of a button. In fact, "uber" has become part of our daily vocabulary for getting somewhere, much like "google" did for finding out information. It also changed who is considered a "transportation service provider." Now anyone with a car can offer transportation services, and at lower costs.
We're witnessing the same tremendous opportunity for disruption in the telecom industry now. Faced with increased bandwidth demands from streaming mobile video, the influx of 50B connected devices coming onto the network, and yes even those ride hails via the Uber app, combined with a need to curtail costs, service providers must disrupt how they build and manage their networks as they transition to 5G.
The Time to Disrupt is Now
Traditional networks are expensive. Extremely so. For decades, communications service providers (CSPs) have been buying very expensive single network purpose-built platforms from incumbent vendors that has resulted in massive CapEx and OpEx, while locking them into a single supplier and locking out competition. However, this is just not sustainable – or scalable – as they prepare for those 50 billion connected devices largely driven by IoT applications that will strain network capacity and performance like never before.
To break this cycle and accelerate service delivery innovation, CSPs are investing in cloud, software-defined networking (SDN) and network functions virtualization (NFV) technologies based on OPEN principles. By leveraging open platforms and DevOps methodologies, CSPs can transform their networks, eliminate vendor lock-in, reduce complexity, and lower costs.
Open Radisys, the strategy we announced today, is our continued commitment to enable service providers to drive disruption with open architecture business models.
This commitment is backed by our long history in software, hardware and services for the telecom industry – combined with our DNA in open telecom solutions – sets us apart. Unlike the large infrastructure vendors, Radisys didn't traditionally sell to service providers so we have no incumbency market to protect from internal cannibalization. Instead, we take the best combination of open and commercial building blocks – either from Radisys or another vendor – and put together an integrated open telecom solution that best meets our service provider customers' specific needs. I consider Radisys as "Switzerland" in this new world – we're neutral when it comes to the components that get used and laser-focused on what the customer needs.
All About Open Telecom Solutions
Much like Red Hat did for Linux in bringing it to market, Radisys is committed to making sure open telecom infrastructure isn't a nice science project, but is commercialized and deployed.
We are the systems integrator. When a service provider wishes to replace a traditional hardware vendor, get more efficiency out of a particular network element, or roll out an open reference implementation, we are the natural "go to" partner for them, continuing our commitment of leadership in the new DevOps era.
We are taking risks out ahead of rewards, and are doing so – as any disruptive company does – in collaboration with the customers who provide us the invaluable guidance necessary to architect the technology roadmaps that define next-generation networks as 5G comes around the corner.
We're pushing the envelope in product development. Our award-winning "Engine" portfolios deliver disaggregated solutions based on open APIs and standards. Today, for example, we announced that our breakthrough DCEngine has now been certified as "OCP Inspired" – a unanimous decision by the incubation committee of the OCP alliance consisting of leaders from Salesforce, Facebook, Microsoft, Hyve, Verizon, AMD, Google and AT&T.
We're recognized for the substantial investment of resources spent engaging with open source communities including ON.Lab/ONF, OCP, TIP and others. After working intensively with some of the most advanced – and aggressive – open source communities in the Open Telco arena, we are extremely proud today to drive more interoperable, more easily integrated, more practical to consume technologies, solutions and services that can make a significant difference in how CSPs meet customer demand and drive greater profits.
We have world-class partners with us, including Intel, Nokia, Mavenir, AGT and Red Hat.  
But "open" doesn't stop at how we envision and execute on technology for our customers.
Being open means being honest, being available, being collaborative, being transparent and being easy to do business with.
Being open matters as much inside our company as outside, with a culture that lives an "open door" policy.
Being open crosses all the domains associated with running and growing a quality business, with intensity, focus and relevance in an industry that will continue to undergo enormous change in order to address the limitless demand for connectivity and services, accelerating as the number of connected people and things moves up into the multiple billions, with no end in sight.
Disrupt or be Disrupted
A rising tide, like the one we are seeing in the demand for broadband and quality services, doesn't lift all boats. It lifts those which are prepared to rise. Open Radisys is prepared to rise and sail, to compete and win based on our full-out commitment to ensure our customers win. We're going to disrupt.
Brian