New Case Study: Arkadin Partners with Radisys to Deliver Cloud-based Collaboration Services with Premium Audio Quality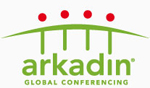 In the last month, how many global teleconferences have you dialed into? If your work days are anything like mine, you probably lost track after counting up a week's worth of meetings. What's more, I'm sure we can all relate to the annoyance of call quality that is any less than first-rate. Those calls may have even affected our productivity.
As companies rely more and more on teleconferencing services, they are taking a closer look at service level and cost. They're turning to the cloud for simplicity, quality, security and competitive rates. But what are the challenges faced when leveraging cloud computing for IP telecommunication services? The underlying network architecture must be engineered to ensure delivery of real-time voice conferencing media streams with minimum delay across the cloud, between mobile and office phones and the Radisys media servers in central offices/data centers.
Our latest case study walks through how one Radisys partner, Arkadin, used Radisys Media Servers to offer economical, feature-rich, VoIP audio conferencing services to its customers.
Arkadin's Cloud Collaboration Platform features a distributed network of Radisys CMS-9000 Media Servers and delivers high quality voice, a rich feature set and proven audio mixing economics in six cities across four continents. The case study does an excellent job of outlining both the market drivers pushing the telecommunications industry toward adoption of cloud collaboration services as well as how Radisys media servers are helping Arkadin differentiate their service offerings.