MPX-12000 Wins Communications Solutions Product of the Year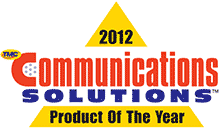 Media processing technology takes center stage
This is a great day for Radisys. Our MPX-12000 Broadband MRF has taken home another industry award, being named a 2012 Communications Solutions Product of the Year award winner by TMC. As an advanced MRF for LTE IMS deployments, we built the MPX-12000 to enable operators to monetize their LTE networks, delivering the real-time media processing required for VoLTE, Rich Communications Services (RCS) and other value-added services.
VoLTE deployments are underway, and our MPX-12000 is in the thick of it. Last year, we partnered with Mavenir to enable the world's first VoLTE deployment with MetroPCS. In 2013, we are currently engaged in seven VoLTE trials around the world. We're working with a large mobile operator in APAC to roll-out VoLTE to its subscribers and we're also seeing traction for VoLTE transcoding opportunities – stay tuned for future announcements on these exciting customer wins.
This demand for MRF capabilities will only continue. Let's look at the stats. There are more than six billion mobile users and more than 300 global mobile operators committed to LTE network investments. Strategy Analytics predicts 1.6 billion LTE connections by 2017. All LTE mobile operators will be looking to monetize their LTE network investments, and that is where deploying Radisys MRF as part of their IMS architecture can help. We're continuing to invest in our MPX product family to support the multimedia processing essential for VoLTE, RCS, VAS, and mobile video services. Earlier this year, we announced our MPX Operating Software (MPX-OS), which serves as the software foundation for all of our media processing products and solutions, including the MPX-12000, and extends our media processing leadership for WebRTC, OTT services and cloud deployments.
The future is bright for the MPX-12000 as we enable mobile operators to deploy revenue generating services and enter new markets that need media processing and transcoding capabilities. I encourage you to learn more about our entire line of MRF products at www.radisys.com/products/mrf/.