Mobile Operators Can Now Fast-track their SDN & NFV Deployments with the New T-100 Series with FlowEngine Technology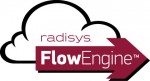 Mobile operators today face the challenge of virtualizing data plane processing across millions of broadband streams, with dynamic load balancing across hundreds of virtual machines and with near-zero latency. Given the complexities of this undertaking, there is no better time for us to announce the T-100 Series Platforms, integrated with FlowEngine™ technology. Publicly launched earlier this week, our new T-100 Platforms accelerate SDN and data plane NFV application development and improve platform efficiencies with increased density — lowering mobile operators' CapEx and OpEx.
Data plane applications must first evaluate and classify the packet flows on the network before deploying load balancing. The T-100 Series with FlowEngine technology (also developed by Radisys) delivers a pragmatic and differentiated approach to deploying NFV architecture, by eliminating the need for stand-alone DPI and load balancing equipment. FlowEngine technology delivers wirespeed flow classification within the platform switch mechanics to rapidly identify traffic, reducing DPI loads on CPU blades and increasing overall chassis capacity and performance. This helps operators dramatically speed up their SDN and NFV data plane deployments.
The T-100 Series consists of the T-100 Ultra, a 14-slot chassis that delivers 2+ Tbps aggregate throughput, and the T-100 Pro, a six-slot chassis that delivers 640 Gbps of aggregate throughput. Both are ATCA standards-based and leverage COTS silicon technology engineered for telecom reliability and performance, allowing our customers to leverage a broad range of virtualization and development tools available for Intel® x86 processors. Combined with the added functionality of FlowEngine, I can think of no better way for mobile operators to turbocharge their NFV data plane and manage the explosion of mobile data growth as we shift into the virtualized era.
For more information about Radisys' new T-100 Series Platforms, visit the product page, check out recent press coverage from the past week, and be sure to register for our October 8th webinar!