Media Processing that Leads the Pack: MPH6 Wins Mobility Tech Zone's Product of the Year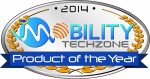 Today we announce another industry endorsement of our high-capacity MPH6 media processing card for the MPX-12000 Broadband Media Resource Function (MRF). I'm excited to share that the MPH6 has won the 2014 Mobility Tech Zone Product of the Year award!
Processing the media streams to generate revenue from real-time communication services between audio and video endpoints with complex codecs requires extremely powerful media processing platforms in the network.
The MPH6 leverages our MPX-12000 MRF fault-resilient architecture, delivering the industry's highest-capacity media processing platform for VoLTE, IP multimedia transcoding, HD video conferencing and WebRTC.
Our MPH6, as part of our MPX-12000 Broadband MRF, enables operators to achieve the following benefits:
• Deploying VoLTE with scale. By embracing VoLTE in an LTE network, voice, data and video services are all supported over an all-IP architecture, driving network operation efficiencies.
• Advanced transcoding capabilities that allow operators to support VoLTE HD audio calls in an interoperable way between devices using 3G, PSTN, WebRTC and other endpoints.
• Deploying VoLTE facilitates refarming chunks of "freed" 3G spectrum for LTE network growth.   This strategy can postpone and defer 4G spectrum purchases worth billions, which more than covers the costs for an IMS deployment to support VoLTE and other IMS multimedia services.
The MPH6's staggering processing power is no small feat, as it means we can offer a 10x improvement in port capacities and densities. And, the transcoding capabilities of the MPH6 allow operators to deploy to support VoLTE HD audio calls in an interoperable way between devices using 3G, PSTN, WebRTC or other endpoints. The MPH6 adds processing power to enhance MPX-120000 functionality, producing a robust, scalable solution that best suits operators' evolving needs.
Mobility Tech Zone Product of the Year Awards honor the development of technologies geared toward the evolution of a 4G, all IP, wireless network, including products, services, architecture and infrastructure, delivery, and applications. I encourage you to learn more about our award-winning MRF solutions at http://www.radisys.com/mediaengine/products/vmrf.