Industry Collaboration for the Win! MEF Excellence Awards 2016
Submitted by
Tom Lein
on November 30, 2016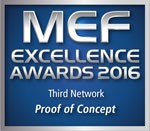 When companies work together, great things can happen. I was reminded of this simple truth at MEF16  in Baltimore, where Radisys was able to team with three other organizations to find mutual award-winning success.
Each year at MEF, the heart of the networking hall is a Proof of Concept Showcase wherein companies collaborate to present interactive demonstrations of brand new service and technology innovations that are likely to have a lasting influence on the communications industry. This year 14 groups, made up of 29 companies, demonstrated new implementations of agile/dynamic, assured, and orchestrated Third Network services with LSO, SDN, NFV, and CE 2.0 innovations.
There was a lot of buzz and intensity around the PoC Showcase and people were very interested in seeing what technologies and solutions will be redefining the communications landscape in the near future.
CenturyLink, Ciena's Blue Planet division and RAD joined forces to demonstrate performance management and carrier Ethernet service activation across an SDN and NFV-enabled multi-vendor wide area network (WAN). The cooperative PoC showcased an open-source initiative to develop APIs and Resource Adapters within the MEF LSO framework to automate the end-to-end delivery of agile, assured, and orchestrated Carrier Ethernet and NFV services. Behind the scenes, and at CenturyLink's request, Radisys' DCEngine framework powered it with a virtualized multi-rack datacenter.
For its efforts, a panel of analysts judging the showcase named the CenturyLink/RAD/Ciena team a recipient of the MEF Excellence Award, given for the 'best demonstrated implementation of agile, assured, and orchestrated Third Network services.' 
MEF16 also served as the first opportunity for us to show a powered up DCEngine publically. While it wasn't exactly on display -it is a server rack container after all- it was hard at work behind the curtain to ensure CenturyLink could deliver the show experience it wanted. And we were able to give some partners a peek behind the curtain to see for themselves what DCEngine is all about.
From the time CenturyLink invited Radisys to join them in its booth and PoC Showcase a mere four weeks prior to the event, the Radisys team, and specifically field applications engineer Chris Vagnini, worked diligently to provide the needed technical and front-end support – quite a feat. Pulling it together in such a short time is a tribute to our team's expertise and diligence. It was also a testament to the flexibility of Radisys' products and services.