IDF Recap: Building Communities in an SDN/NFV Environment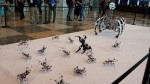 I spent last week at the annual Intel Developer Forum, meeting with attendees at our booth in the Network Builders  Community. While the "Intel Dancing Spiders" were a crowd hit, being part of the growing SDN/NFV community was what it  was really all about for me at this year's show. IDF provided access to leading software developers and companies and  allowed me to not only meet with existing partners, but to explore opportunities with new strategic partners as well. I also got  to meet with key press and analysts and the academic community.
In the Radisys booth, we put a spotlight on our new FlowEngine technology. FlowEngine is a high-performance OpenFlow-compliant data plane software application that enables communication services providers to rapidly deliver new services and applications in a scalable, SDN-enabled network while reducing network complexity and CapEx costs. We ran a video demonstration of how FlowEngine can be implemented in a real-world scenario, showcasing Service Function Chaining, with integrated flow tables, in an SDN environment.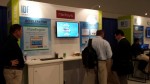 My conversations around FlowEngine and other SDN trends validated that Radisys is on target with our approach, and that SDN adoption is not a trend – instead SDN is a mature technology that continues to make great headways towards mainstream adoption. It also validated where Radisys fits in the SDN ecosystem and that partnerships will be critical as we move forward as an industry.
Radisys has a number of opportunities coming up where I look forward to engaging with more of the SDN community. We'll be participating in an Infonetics webinar on September 24, "SDN and NFV: Lessons Learned Moving from the Lab to Commercial Service." (You can register for this webinar here.) We'll also be exhibiting our working real world deployment with our SDN partners and speaking on a panel at the SDN & OpenFlow World Congress in Dusseldorf, Germany, October 12-16. Please let me know if want to grab a beer in Dusseldorf to talk SDN or if I can answer any questions about FlowEngine or the evolving SDN/NFV community I'm excited to be a part of.