FlowEngine TDE-1000 Intelligent Load Balancer Wins NFV Pioneer Award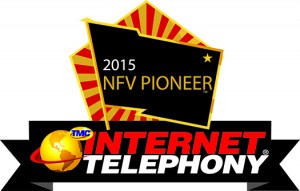 I'm pleased to share that our newly launched FlowEngine TDE-1000 Intelligent Load Balancer has been named a 2015 INTERNET TELEPHONY NFV Pioneer Award winner. This award recognizes demonstrated innovation and noteworthy developments toward improving Network Functions Virtualization. The TDE-1000 is the industry's highest performing traffic distribution engine, accelerating new service introduction, while providing maximum flexibility and efficiency for SDN/NFV deployments.
At Radisys, we're excited about what the TDE-1000 brings to the table for service providers as they seek to manage the millions of data flows traversing the packet network driven by the explosion of video, broadband mobile devices and IoT. Until now, they have managed this huge volume of IP packets by combining discrete load balancers, edge routers and ToR switches. However, the continued use of disparate components to manage data traffic has led to unnecessary complexity and costs.
Radisys pioneered an approach to stateful data plane load balancing with the TDE-1000, bringing together these capabilities plus novel features that address the specific needs of an SDN and NFV-based environment, all in a compact and cost effective product. The Radisys TDE-1000 consolidates multiple network functions into one unified traffic distribution platform, accelerating the cost effective introduction of dynamic per-subscriber services – an approach that respected industry analyst Sue Rudd, director of Service Provider Analysis with Strategy Analytics, described as "visionary."
By intelligently steering each data flow only to the network resources that the flow needs to go to, the FlowEngine TDE-1000 improves the overall utilization of the entire pool of NFV compute resources. The end result for service providers is significant OpEx savings in the overall NFV architecture in the data center.
I encourage you to learn more about our FlowEngine technology and the TDE-1000 Intelligent Load Balancer by visiting our product page.