Expertise in Mobile Video VAS Featured in Internet Telephony!

Why is this diagram so important that I would select it as the lead-in to this blog?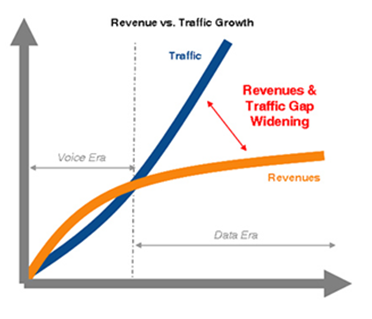 We have all heard about the exponential growth in mobile broadband traffic – particularly mobile video.  But what the diagram shows is that revenue growth is not keeping up.  And as this gap widens, mobile operators will be increasingly challenged to maintain profitability and fund future network expansions.
How have operators historically approached generating revenues? On any network (wireline or mobile) there are basic calling services, but operators try to upsell users to value-added services (VAS). Why? Because, while basic calling services are delivered with slim margins in a competitive environment, selling differentiated VAS increases average revenue per user (ARPU) with higher margins.
To solve the challenge depicted in the diagram above, forward looking operators need to remember where they made high-margin revenues in their 2G audio mobile networks (audio VAS) and revisit their entire VAS portfolio. Enter, the "videoization" of mobile VAS. In my recent Internet Telephony article I explore the challenges and solutions of the migration from audio VAS to video VAS, and explain how mobile operators can leverage this shift to generate revenues and close the widening revenue gap you see in the diagram above.