Data Tsunami Addressed at Small Cells Americas Forum
I recently had the opportunity to speak at the Small Cells Americas Forum, held last week in Dallas, Texas. At Radisys, we've been at the forefront of delivering small cell solutions to our customers, and it was interesting to see at the event how multi-mode and public-metro small cells took center stage. There was also a clear theme that operators are leveraging a multi-vendor supply chain for their Radio Access Network (RAN). We see that all of the players in the small cell ecosystem are coming together to address the data tsunami that is going to hit the wireless industry in the next two to three years.
While operators are already struggling to keep up with the demands that mobile video is putting on their networks today, it is predicted that in just a few short years, by 2016 to be exact, data traffic will have exploded by a factor of 30x with revenues only growing by 2x*.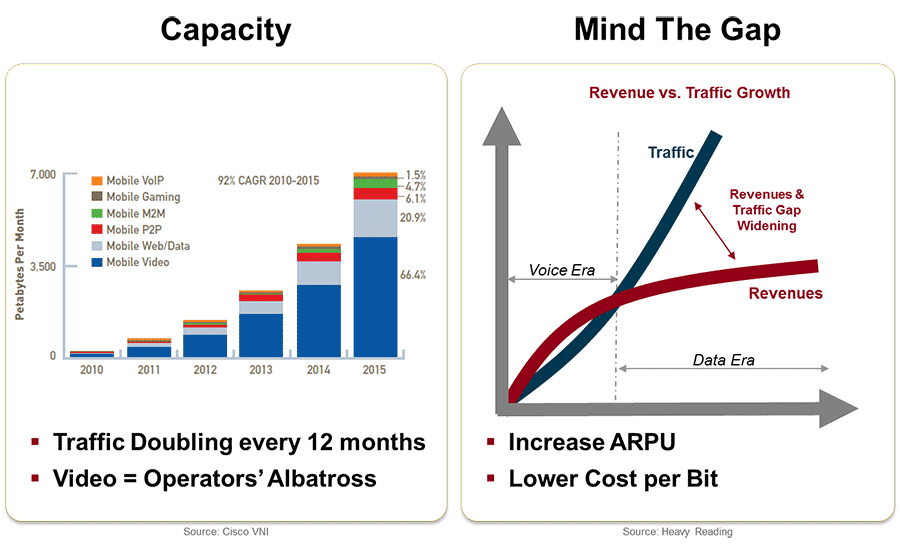 The trend is clear. Operators must leverage all of the tools in their RAN toolkit to manage this explosive growth. And multi-mode small cells with Wi-Fi and bandwidth management across all accesses are one of the key tools they will need to meet the bandwidth needs of the future. The HetNet, or Heterogeneous Network, is a multi-layer network combining macrocells along with strategically placed small cells, Wi-Fi hotspots and more.
So what does this mean for operators? At Radisys, we believe that the next-generation RAN will be the HetNet, an amalgamation of these small cells that not only provide increased capacity for the data deluge, but coverage as well. Operators will leverage numerous techniques to manage this increased bandwidth including LTE-Advanced and Self-Organizing Networks (SON). At Radisys, we're involved in the standards and policy work for these bandwidth management technologies to ensure the efficient utilization of all the available access on the RAN side.
I encourage you to check out my presentation from the event that dives deeper into the evolution of HetNets and how they will shape the future. You can view the presentation on SlideShare here.
* Source = Maravedis-Rethink 2012