Awarding HetNet Innovation: TOTALeNodeB Shortlisted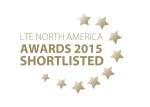 Innovation happens when resources are scarce. For mobile operators, spectrum is a scarce and expensive resource, so innovation is happening rapidly on a number of fronts.
The first innovation – LTE. Mobile operators are rapidly deploying LTE as LTE networks use radio spectrum more efficiently than previous generation technologies. Second, there's the rise of the HetNet. Mobile operators are deploying a combination of macrocells, Wi-Fi, DAS and small cells to create mobile Heterogeneous Networks to maximize their spectrum and add capacity and coverage to their network.
Now, the Cloud-RAN is making its mark as the next major innovation as mobile operators turn to virtualization technologies to optimize their HetNets and further alleviate network strain. By deploying radios in the network and moving the functionality to the cloud through the deployment of virtual base stations, mobile operators can take advantage of processing aggregation and dynamic allocation of resources from a central processing unit.
At Radisys, we recognized the need for a Cloud-RAN-ready platform that will allow these operators to accelerate their cloud deployments and realize the benefits of virtualized network functions. Our CellEngine™ TOTALeNodeB™ LTE small cell software supports carrier-grade, application-ready C-RAN platforms, delivering a virtualized software implementation of a complete base station deployed in a virtual machine on standard commercial off-the-shelf (COTS) servers.
A C-RAN platform with TOTALeNodeB delivers the following benefits to operators:
•    Increased capacity and coverage
•    Reduced power consumption and increased utilization rate of processing resources
•    Reduced Total Cost of Ownership
•    Improved spectral efficiency
•    Better coordination among base stations, bringing processing advantages to utilize LTE-Advanced functionality
•    Supports coordinated Self-Organizing Network (SON) strategies
End users benefit as well, experiencing seamless coverage as they move between base stations in a HetNet. Videos, games and even the occasional call won't drop. We're currently working closely with partners to bring the Cloud-RAN from the lab to the field, bringing this innovation to deployment.
And our innovation has been recognized! TOTALeNodeB has been shortlisted for the LTE North America Awards 2015 for the "Innovation in HetNet Development" category. Winners will be announced November 18 at the awards ceremony taking place during the LTE North America conference in Dallas that week. We'll be onsite during the show and available to meet. If you'd like to schedule some time to learn more about TOTALeNodeB or our MediaEngine™ or FlowEngine™ product lines, contact info@radisys.com.