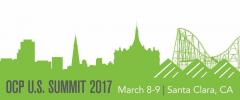 Radisys will be a Copper Sponsor at this year's OCP Summit at the Santa Clara Convention Center in California on March 8-9. 

The OCP Summit gives companies and individuals the opportunity to work with the OCP community to progress the future of important projects such as Data Center, Compliance and Interoperability (C&I), Hardware Management, High Performance Computing (HPC), Networking, Open Rack, Server, Storage and Telco. 
To meet with one of Radisys' DCEngine experts at the OCP Summit, please email sales@radisys.com.