Radisys Professional Service Helps CSPs overcome Industry Challenges
Telecom and Wireless Service Providers globally are trying to find ways to transform their networks to compete with webscale players. The increasing demand of data coupled with decreasing revenues per user has underlined the need to lower the cost per bit. Communication Service Providers (CSPs) are also taking on webscale players in the digital services domain and need to compete in terms of infrastructure cost, agility and time to market for new services. Telecom networks are typically built on vertically integrated appliances from a variety of vendors, which limits innovation and Time to Market. In order to meet these challenges CSPs need to change from vendor locked in appliances to an open compute and open source infrastructure where they can exercise better control on the network features used to deliver end services.
There are multiple architectures and industry standards that aim to define a blue print of technologies that enable CSPs to leverage open source and open compute platforms for telecom applications. New functional paradigms like SDN, NFV and CORD are then the building blocks of this transformation.

Mission Statement
At RADISYS Professional Services, our Mission Statement actually aligns with this market challenge facing Communication Services Providers.
Partner of choice for Service Provider Central Office Migration to Open Compute/Open Source Platform
Open Source Software Life Cycle Management with Continuous Integration, Development and validation competencies around the globe(CI/CD, TestOps Partner)
Industry best Time to Market in Open Data Center Turn up with field proven methods of operations and global staging centers.
Excellence in Support Services with Global Technical Centers across the globe

Why Radisys
RADISYS Professional Services is Preferred Systems Integrator as announced by ON. Labs for carrying out end to end custom design, development, validation , integration and lifecycle management of CORD solution across the globe.
Dual competence: 28 YEARS TELCO EXPERIENCE + IT DATA CENTER
Software + Hardware Heritage: Market leading Embedded Platform Hardware + Virtual Functions Software Stack Licensing
Software Development as a Service leveraging CI/CD
Commitment to Open Source Platforms : Actively contributing open compute platform specification and software stack back to Open source community
Experienced Resource pool: Experienced resources well versed in Open Source Software Development and traditional Mobile and fixed Networking Skills
Radisys Professional Services consists of the following portfolios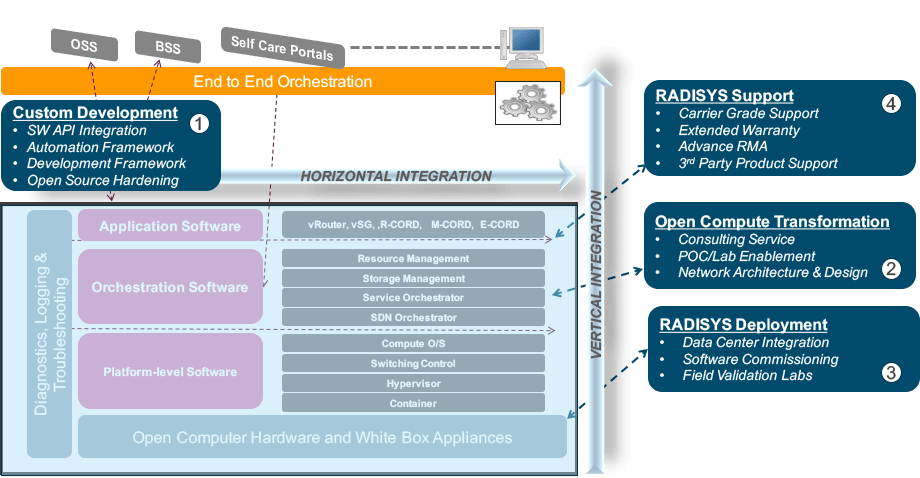 Custom Development Services
Software enabled network of tomorrow will need market differentiation, interoperability resolution and customized development and delivery of existing and new revenue generating services.
Learn More
Open Compute Transformation
Working as certified CORD development and integrator Partner, Radisys Professional Services provides industry's first –Open Compute Transformation Service.
Learn More
Field Deployment Services
Radisys Deployment Services provides for value-added turnkey implementation of Open Compute Platform hardware, software and network level systems for Next Generation Data Centers for both Telecom and IT domains.
Learn More
Support Services
Radisys Support Services provides assurance that networks and products are maintained in commercial service as per committed service level agreements.
Learn More