Contact Us
We are ready to help!
This paper authored by Lee Doyle of Doyle research and sponsored by Radisys, explores how the increasing commoditization of network bandwidth and competitive pressure from OTT providers, is causing leading Communications Service Providers to question and understand their need to improve their network operations. By adapting software-centric architectures based on SDN and NFV, CSPs can deliver new services, improve customer satisfaction, and reduce costs. In the paper, Mr. Doyle discusses how the Radisys FlowEngine solution, combined with Professional Services is enabling CSPs to adapt this new architecture – and with efficiency.
Register to get "White Paper: High Performance SDN and NFV to Revolutionize the Telecom Network – by Lee Doyle, Principal Analyst at Doyle Research".
Please submit the form on the right.
We respect your privacy and will NOT sell your data.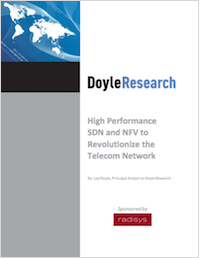 TOLL FREE
+1.800.950.0044