Contact Us
We are ready to help!
The Radisys MediaEngine™ Virtualized MRF (vMRF) is a media processing powerhouse for a wide range of revenue-generating interactive HD audio and HD video services.The software-only solution is highly optimized to deliver exceptional performance in virtualized and cloud environments. With support for 3GPP IR.92, IR.94 and WebRTC, the vMRF is ideally suited for communication service providers deploying VoLTE, IMS and over-the-top (OTT) services.
Register to get "Datasheet: MediaEngine™ vMRF – Virtualized Media Resource Function".
Please submit the form on the right.
We respect your privacy and will NOT sell your data.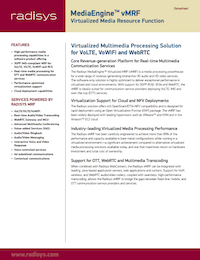 TOLL FREE
+1.800.950.0044