Contact Us
We are ready to help!
The Radisys family of Traffic Distribution Engine (TDE) platforms, pre-integrated with Radisys FlowEngine™ Software, delivers to SDN and NFV solution developers an integrated Intelligent Traffic Distribution System with carrier-grade performance, scalability, and reliability. TDE platforms are available in a variety of configurations depending on customer requirements and use cases.
Register to get "Datasheet: FlowEngine™ TDE Platforms – Intelligent Traffic Distribution Systems".
Please submit the form on the right.
We respect your privacy and will NOT sell your data.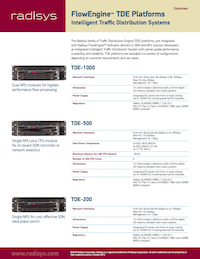 TOLL FREE
+1.800.950.0044