Contact Us
We are ready to help!
Renuka Bhalerao, Director of Product Line Management, CellEngine – shares how small cells are going to change, and be changed by, the evolving industry landscape.
This visual infographic and interview -- brought to you by Radisys and The Mobile Network (TMN) -- takes you through a quick journey of how small cells will develop through 4.5G and 5G deployments and points out important considerations such as:
The movement to cloud architecture is promising for the RAN – but there's no one way to do it
Mobile edge computing and the intelligent edge requires small cells
LTE-A PRO features will tax small cell software systems
Register to get "7 Things I Know About How Small Cells will Develop through 4.5G and 5G".
Please submit the form on the right.
We respect your privacy and will NOT sell your data.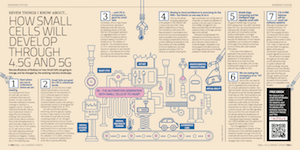 TOLL FREE
+1.800.950.0044