Contact Us
We are ready to help!
FlowEngine is a high-performance OpenFlow-compliant data plane software application that enables communication service providers (CSPs) to rapidly deliver new services and applications in a scalable, SDN-enabled network while reducing network complexity and CapEx costs. It is designed to operate in both data center and telecommunications environments that demand high flexibility, scalability and guaranteed performance.
Register to get "Datasheet: FlowEngine™ Software - Intelligent Traffic Distribution System".
Please submit the form on the right.
We respect your privacy and will NOT sell your data.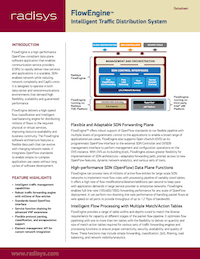 TOLL FREE
+1.800.950.0044